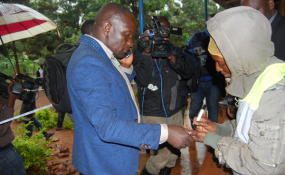 Photo: Daily Monitor
By Monitor Team
Jinja — Mr Paul Mwiru, the FDC candidate is leading his main challenger, Nathan Igeme Nabeta from the ruling NRM and six others in the Jinja East MP by-election, according to provisional results being released at various polling stations.
By press time, provisional results from 38 out of 47 polling stations, representative of 80 per cent, showed that Mr Mwiru was leading Mr Nabeta by 5,200 votes against the former's 4,145.
Worth noting however, is that the FDC candidate defeated Mr Nabeta across all the four polling stations in Main Street Primary School where the NRM candidate voted from.
At Main Street East polling station, Nabeta got 47 votes against Mwiru's 77, at Alidina M-N polling station Nabeta scored 103 votes while Mwiru scored 141, at Main Street N-Z Nabeta scored 149 against Mwiru's 177 and at Alidina-Gokhale A-L, Nabeta scored 134 against Mwiru's 233.
Elsewhere, at Civil Service College, Nabeta got 22 against Mwiru's 80, at Spire Road, Nabeta got 59 while Mwiru garnered 140, at Factory Ground O-Z, Mwiru got 199 against Nabeta's 77, at Walukuba West N-Z, Mwiru got 131 against Nabeta's 71, at Walukuba West A-Z, Mwiru got 187 while Nabeta got 71, at Iganga Road, Mwiru got 131 against Nabeta's 71, KIsimma II Nabeta got 39 against Mwiru's 79.
This election comes after the Court of Appeal in Kampala nullified Nabeta's February 2016 victory in January on grounds that he connived with the Electoral Commission (EC) to alter results at Danida A-D polling station which put him at an advantage.
The by-election attracted eight contesters, but competition is between NRM's Nathan Igeme Nabeta and FDC's Paul Mwiru and this is the fifth time the two have faced-off.
Other contestants are Mr Faisal Mayemba, Eng Francis Wakabi, Ms Christine Monica Abuze, Mr Paul Mugaya, Mr Richard Nyanzi and Mr Hatim Isabirye Mugendi - all Independents.
Despite expecting a 28,000 voter turn-up, voting in most polling stations was delayed by rain which started at 6:00am and went on throughout the afternoon.
The Electoral Commission (EC) Spokesperson, Jotham Taremwa told Daily Monitor that: "The weather has been unkind but the people of Jinja East have decided to try the weather by coming out to vote. Despite the rain, by 6:00am, all voting materials had been dispatched to respective polling stations ahead of the 7:00pm starting time."
At Main Street Polling Station, voting started at 8:30am and by 10:00am only about 35 people had turned up to vote out of 820 registered voters, according to Goretti Twebaze, the Presiding Officer.
"So far we haven't encountered any problems. Everything is calm, security is available. We were delayed because of the rain and I am sure this has kept some people away," she said.
Edirisa Kigundu, a resident of Alidina Village who voted from Main Street Primary School, said: "The voting has so far gone on well despite the presence of many security patrol vehicles which almost made me fail to come and vote."
Yusuf Ahmed Osman, also a resident of Alidina Village, said the election has so far gone on well despite rain.
At Walukuba-Masese Boys' Primary School Polling Station, voting was delayed by 30 minutes due to rain; however the voters managed to queue up under umbrellas to vote.
Ms Harriet Achan, a voter at Walukuba West polling station, said the EC was not prepared for the rain because in some polling stations like at Kalim Jorp, they had no rain protectors and begun the voting process late.
"I had to sacrifice my umbrella for the (EC) officials so that they can begin the exercise which kicked off at 11:00am because they had to protect the voting materials from being destroyed by rain," she said.
After casting his vote at Alidina Gokhale A-L Polling Station at Main Street Primary School, Mr Igeme said this was the last Court and whatever it decides is what he will go with while Mr Mwiru, who cast his vote at Walukuba East Primary School, decried the intimidation of his supporters by NRM supporters.
FDC party president, Mr Patrick Amuriat, said the army and police had usurped the powers of the Electoral Commission (EC). "We are seeing the police and military deployed everywhere yet the EC is in charge of this by-election. And surprisingly, no officer is willing to explain what is happening. We are going to protest their actions," he said.
Senior FDC party officials who were in the Constituency to oversee Mr Mwiru's election include the former party president Maj Gen Mugisha Muntu, Leader of Opposition in Parliament (LoP), Winnie Kizza, Makindye West MP Allan Ssewanyana, Aruu County MP Odonga Otto, Kiira Municipality MP Ibrahim Ssemujju Nganda and Budadiri West MP Nathan Nandala Mafabi among others.
Arrests
Kiira region police spokesperson, Diana Nandaula, confirmed the arrest of eleven people for allegedly interfering with the electoral process.
She said the suspects who were picked from different parts of the Constituency are being detained at Jinja CPS on charges of threatening violence, voter bribery and malicious damage to property.
Earlier at Iganga Road Polling Station, one Fauzi Kawooma was arrested allegedly with 20 pre-ticked ballot papers in favour of the NRM candidate.
At Lions Club Polling Station, an unidentified agent of Mr Mwiru was arrested by Kayunga District NRM Chairperson, Moses Kalangwa Kalisa for unknown reasons by press time.
While at Spire Road Polling Station, military police had to be brought in after Mr Mwiru's supporters allegedly chased away an unidentified person who is said to have been brought from neighouring areas of Jinja to vote.
Mwiru's supporters said they had 'keenly observed' people being kept at the NRM candidate's Hotel and were being released one-by-one to vote yet they were not Jinja East residents.
However Ms Nandaula, when contacted, dismissed the allegations as hearsay.
The Coordinator of Citizens' Coalition for Electoral Democracy (CCEDU), Mr Crispin Kaheru, condemned the heavy deployment of both army and police at different polling stations that he said scared away some people from participating in the electoral process.
Ballot stuffing
A number of complaints about ballot stuffing and intimidation of voters were raised by the FDC although police and Electoral Commission denied the allegations.
Mr Mwiru, in the company of Ssemujju Nganda and other senior party figures seized15 ballot papers from the Boma Grounds polling center in Danida-Walukuba East reportedly pre-ticked in Mr Igeme's favour.
This triggered chaotic scenes from FDC supporters.
"This is not about me but the country. We shall do whatever we can to see that this election is fair," Mr. Mwiru said, adding that he would not lose hope until the official results are announced.
He added that during the counting of the votes, they are going to consider the serial numbers on the ballots depending on how each of them was sent to the various polling stations.
However, Mr Taremwa said the pre-ticked ballot papers that were found do not belong to the EC because theirs have serial numbers even on the ballot boxes. "Those who are saying the ballot papers belong to the EC should verify the serial numbers," he said.
At Walukuba Health Center IV, FDC supporters were arrested and when Mr Mwiru tried to intervene, he was chased away by the police. Mr Mwiru raised concerns that his polling agents were being arrested across polling stations and had to be replaced at short notice.
COMPILED BY BY PHILIP WAFULA, TAUSI NAKATO, DENIS EDEMA, ABUBAKER KIRUNDA & LYNN NASIRUMBI