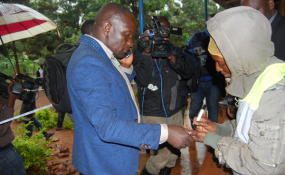 Photo: Daily Monitor
Jinja — The Opposition Forum for Democratic Change (FDC) candidate, Mr Paul Mwiru has won the Jinja Municipality East Constituency election, beating his competitor and main challenger, NRM's Igeme Nathan Nabeta and six others.
According to the results announced by the Electoral Commission, Mwiru got 6,654 while his closes challenger; Nabeta got 5,043. The two were followed by an independent candidate - Faisal Masaba who manage 117 votes.
The rest of the candidates trailed scoring below one hundred votes each.
Voting
Although voting was delayed by the downpour that started around 6am and went on throughout the afternoon, voters turned up in good numbers at the various polling stations.
Tallying
The FDC candidate defeated Mr Nabeta across all the four polling stations at Main Street Primary School including where he voted from.
At Main Street East polling station, Nabeta got 47 votes against Mwiru's 77, at Alidina M-N polling station Nabeta scored 103 votes while Mwiru scored 141, at Main Street N-Z Nabeta scored 149 against Mwiru's 177 and at Alidina-Gokhale A-L, Nabeta scored 134 against Mwiru's 233.
Elsewhere, at Civil Service College, Nabeta got 22 against Mwiru's 80, at Spire Road, Nabeta got 59 while Mwiru garnered 140, at Factory Ground O-Z, Mwiru got 199 against Nabeta's 77, at Walukuba West N-Z, Mwiru got 131 against Nabeta's 71, at Walukuba West A-Z, Mwiru got 187 while Nabeta got 71, at Iganga Road, Mwiru got 131 against Nabeta's 71, Kisimma II Nabeta got 39 against Mwiru's 79.
The by- election characterised by arrests and violence comes after the Court of Appeal in Kampala nullified Nabeta's February 2016 victory in January on grounds that he connived with the Electoral Commission (EC) to alter results at Danida A-D polling station which put him at an advantage.
Contestants
The by-election attracted eight contesters, but competition was between Igeme Nabeta and Mwiru and this is the fifth time the two have faced-off.
Other contestants are Mr Faisal Mayemba, Eng Francis Wakabi, Ms Christine Monica Abuze, Mr Paul Mugaya, Mr Richard Nyanzi and Mr Hatim Isabirye Mugendi - all Independents.
There are 28,000 registered voters in Jinja Municipality East constituency.
EC spokesperson Jotham Taremwa told Daily Monitor yesterday that: "The weather has been unkind but the people of Jinja East have decided to try the weather by coming out to vote. Despite the rain, by 6am, all voting materials had been dispatched to respective polling stations ahead of the 7am starting time."
At Main Street polling station, voting started at 8:30am and by 10am, only about 35 people had turned up to vote out of 820 registered voters, according to Ms Goretti Twebaze, the presiding officer.
"So far we haven't encountered any problems. Everything is calm, security is available. We were delayed because of the rain and I am sure this has kept some people away," she said earlier.
By Philip Wafula, Tausi Nakato, Denis Edema, Abubaker Kirunda & Lynn Nasirumbi