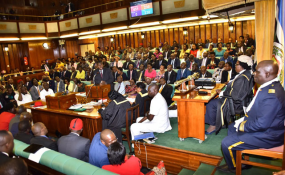 Photo: @parliament_ug/Twitter
By Solomon Arinaitwe
Parliament has resolved to set up a select committee to investigate cases of inflated refugee numbers, fraudulent distribution of refugees' food, bribery, interference with elections of refugee leaders and trafficking of refugee girls.
The Daily Monitor last month lifted the lid over wrongdoings in the government and donor agencies handling refugees in the country with allegations ranging from inflation of refugee numbers and exhortation from refugees by government officials.
The envisaged committee will also investigate allegations of rivalry between agencies involved in the refugees sector, land conflicts due to wrong boundary demarcations in refugee settlements, and complaints by host communities of not benefitting from hosting refugees.
The Committee will also investigate the status of the money that was donated to Uganda during the Solidarity Summit on refugees convened in Kampala in June 2017.
State Minister for Refugees and Disaster Preparedness Musa Ecweru told Parliament yesterday that $523m was promised by donor countries during the Solidarity Summit but only $350m has since been given out. The government has only received $1.5m from the money donated at the summit, Mr Ecweru said.