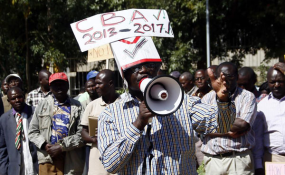 Photo: Daily Nation
By Maureen Kakah
The Employment and Labour Relations Court has stopped the ongoing lecturers strike and declared it unlawful as well as unprotected.
Justice Onesmus Makau on Friday ordered lectures to call off the job boycott and resume work on Monday at 8am.
CBA ROW
The industrial action that has stopped learning in 31 public universities and hit over 600,000 students was called by the Universities Academic Staff Union (Uasu) on March 1.
The teaching staff downed their tools to push universities and the government to table a counter-proposal offer for the 2017-2021 Collective Bargaining Agreement (CBA).
The judge asked vice chancellors and universities not to victimise any of the lecturers who participated in the strike.
He also ordered vice chancellors and universities to present a counter-proposal for the 2017-2021 Collective Bargaining Agreement to the Labour Cabinet secretary within 30 days.
"In my view of my findings herein that the strike is not in compliance with the mandatary procedure provided by the Labour Relations Act," said Justice Makau.
"I allow requests of the universities to stop the ongoing strike."
60 DAYS
While asking all parties involved in the dispute to act in good faith, the judge referred the conflict to the Labour Cabinet secretary to assist in resolving the matter within 60 days before a new conciliator.
The vice chancellors had moved to court nearly two weeks ago, through the Inter-Public Universities Councils Consultative Forum in a bid to stop the industrial action.
They had sued the Uasu who had faulted VCs of failing to counter the union's CBA proposal.
According to the judge, both parties had raised reasonable meaningful demands.