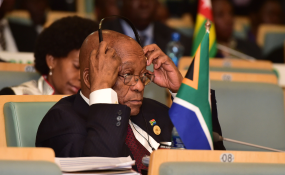 Photo: GCIS
South Africa's chief prosecutor has announced his decision to pursue corruption charges against Jacob Zuma. He said there are "reasonable prospects of a successful prosecution."
South African chief prosecutor Shaun Abrahams on Friday announced his decision to reinstate corruption charges against former President Jacob Zuma. The charges concern a 30-billion-rand (€2 billion, $2.5 billion) arms deal in the late 1990s, Abrahams said.
"After consideration of the matter, there are reasonable prospects of a successful prosecution of Mr. Zuma," Abrahams told a press conference. "A trial court would be the most appropriate [venue] for the ventilation of the issues."
Zuma, 75, was forced to resign by his ruling African National Congress (ANC) last month. He now faces racketeering, corruption, money laundering and fraud charges, all of which can carry lengthy custodial sentences.
Details of the case:
In 2009, the National Prosecuting Authority (NPA) charged Zuma before he ran for president.
The NPA later that year dropped the charges on a technicality. Zuma went on to win the presidency.
In 2016, South Africa's High Court reinstated the charges. Last year, the Supreme Court rejected an appeal from Zuma, saying the NPA's decision to drop the charges was "irrational."
The decision to press on with a case then fell on Abrahams, who heads the NPA.
According to officials, Zuma is set to be charged with 16 counts of corruption relating to 783 instances of alleged wrongdoing.
Why it has taken so long for Zuma to be charged: Prosecutors dropped the case in 2009 by arguing that tapped phone calls involving officials in former President Thabo Mbeki's administration amounted to undue interference.
The case also included those in Zuma's inner-circle. His former financial advisor, Schabir Shaik, was convicted in 2015 for facilitating the bribes. He was sentenced to 15 years for his involvement.
According to prosecutors, Zuma and fellow officials received some €4.2 billion ($5 billion) in kickbacks. Zuma has denied any involvement.
How politicians in South Africa have reacted: Zuma's ANC acknowledged the NPA's decision and said it had confidence in the criminal justice system.
"We continue to assert the inalienable right of all in our country, including Comrade Jacob Zuma, to be presumed innocent until and if proven guilty," the party said in a statement.
Mmusi Maimane, the head of the opposition Democratic Alliance, described it as "a victory for all who have fought for years for Jacob Zuma to face accountability for his crimes. That accountability starts now."
This story was last updated at 1630 UTC.
ls/kms (AFP, Reuters)