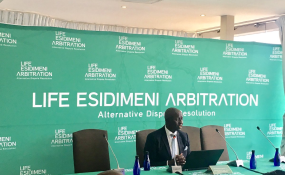 Photo: Gauteng Health Department
The R47m cost for the Esidimeni arbitration hearings is justified as part of a process of closure for affected families, the Gauteng government said on Sunday.
This was in response to a statement issued by Democratic Alliance MPL Jack Bloom on Sunday in which he described some of the costs associated with the hearings as "excessive".
Provincial government spokesperson Thabo Masebe said: "I don't know if we should put a price on the life of people who died in this - we are prepared to walk with the family to do everything to help them find closure and the arbitration hearings was one of the processes to help them."
He added that the process had been one recommended in a report by the Health Ombudsman. The provincial government had spent R15.7m so far on the Esidimeni Arbitration Hearings and was expecting to pay a total of R47m for all the costs of the alternative dispute resolution process, Gauteng Premier David Makhura apparently said in a written reply to Bloom's questions in the Gauteng Legislature.
"More than half the expense was spent on the Emoyeni Conference Centre as the venue for the hearings, which cost R8.4m," Bloom said.
"This is grossly excessive, bearing in mind that Emoyeni is owned by the provincial government which has an arrangement with a private company to rent it out."
'Not sufficient'
Masebe said that if the amounts were called excessive, "then we must say: 'what would have been a reasonable amount?'" - adding that government saw the hearings as necessary, especially since they had been recommended by the ombudsman report.
On Monday, former Deputy Chief Justice Dikgang Moseneke is set to announce the compensation amounts to families of 144 psychiatric patients who died following their move from Life Esidimeni to inadequate and often illegal NGOs.
Bloom said that while financial compensations to the families were "necessary", they were "not sufficient".
The DA called for the "criminal prosecution of all those responsible for the death".
Masebe said that the decision to prosecute lay not with government, but with relevant authorities such as the National Prosecuting Authority.
He said these institutions had also received the ombudsman report and were conducting their own investigations before making "independent decisions".
"Government will support any movement to bring any of the people responsible to book through this process or any other process," concluded Masebe.
Source: News24