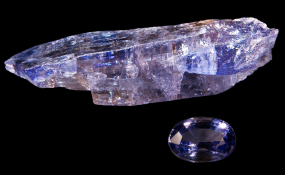 Photo: Didier Descouens /Wikpedia
By Joseph Lyimo
Mirerani — The government will take stern measures against Tanzanite miners who have not complied with a recent directive that required them to start paying salaries to their workers.
The Simanjiro District Commissioner, Mr Zephania Chaula, said on Saturday, March 17 that the government would prepare a report of the miners who have not yet complied with the directive.
"The report will be submitted to the Regional Commissioner, Mr Alexander Mnyeti for appropriate measures," he said during a meeting with Tanzanite miners.
Recently, the government, through Mr Mnyeti, issued a directive for miners to pay salaries to their workers instead of the current system whereby they get 10 per cent of the value of the mined minerals.
Mr Chaula said the government would also deploy labour officers at the area so they can educate workers on their rights and duties.