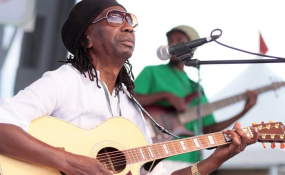 Photo: Facebook
By Robert Mukondiwa
It was always known that second to the second coming of Christ, the most anticipated event in Zimbabwe is the Thomas Mapfumo welcome back Bira.
But the most optimistic of enthusiasts and the most gifted of clairvoyants would not have anticipated what has however gone on to happen.
It seems the ridiculously fast rate at which advance tickets are selling for the event may very well mean the Glamis slated event set for April 28 will have no tickets left to sell on the day as they are on course to sell out.
"It is a phenomenon we never really anticipated," revealed an overwhelmed Entertainment Republic boss Tendai Johannes.
"We knew this was a big deal and our team worked meticulously to put it together knowing there was a huge appetite for the show and Dr Mapfumo and also that he wanted only the best and competent to handle it which is another word for saying Entertainment Republic as we are the best in the business.
"However, the appetite for the show amongst the people is bigger than even we anticipated and that is something that we are happy about as well as exasperated with," he added.
And adding fuel to the raging flames of anticipation, the Oregon based Chimurenga Music Maestro has continued to make media drops encouraging people to buy advance tickets and promising mad fireworks while he is at it.
In a latest audio drop yesterday, Mukanya said he is ready for the first ever partnership with Entertainment Republic, promising to play the fans favourite hits as well as go a step further as he will throw everything including the kitchen sink to make sure that this show indeed lives up to its hot billing.
"Hello, this is Mukanya. Thomas Mapfumo. I want to let you know that Entertainment Republic in partnership with Star FM brings you the Big Bira. My welcome show.
"Please get your tickets now. See you at the show. Thank you," bellowed Mukanya from Oregon prompting a fresh run on advance tickets as of midday yesterday.
"We are promising the show of a lifetime. That is all we can say for now," summed Johannes Tendai.