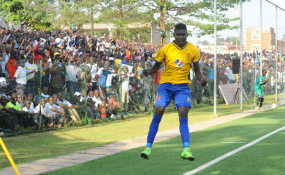 Photo: Eddie Chicco/Daily Monitor
By Andrew Mwanguhya
Kampala — Muhammad Shaban's promising genius, especially in his days at Onduparaka, came with a mixture of gem and volatile temperament; the latter often having some question his head.
After Saturday, no one will question the KCCA striker's head, literally, after Shaban's Shs75m header delivered the Ugandan champions Shs1.9b and a Caf Champions League group stage berth.
The 21-year-old scored the game's only goal as KCCA beat St George of Ethiopia 1-0 at StarTimes Stadium, Lugogo to advance to the group stage of the Champions League for the first time.
Shaban received Shs50m sign-on fee from KCCA, with Shs25m going to Onduparaka for a combined fee of Shs75m for the striker's signature.
The stress of waiting that KCCA absorbed as the controversial transfer dragged (strain on parent club Onduparaka notwithstanding), and the Shs75m, were all repaid in one glancing header on Saturday evening.
The game saw impressive Muzamiru Mutyaba force Uganda Cranes St George goalkeeper Robert Odongkara into saves, with Paul Mucureezi, Shaban, Derrick Nsibambi and Allan Okello combining well. KCCA also survived a counter attack scare when Amara Malle player rounded Charles Lukwago only to shoot just inches wide.
With thousands urging on KCCA, manager Mike Mutebi's boys returned from the break rejuvenated and within two minutes the yellow brigade were on their feet, celebrating. Mutyaba took a short corner, which Mustafa Kizza - the youngster that has been impeccable since breaking through from KCCA development side, curled in.
As cunny as a midnight thief, Shaban stole in between motionless Ethiopian defenders to head home past Odongkara on 47 minutes.
Both sides pushed from then on, with the Ethiopians throwing everything at KCCA for that one goal that would advance them on away goals rule but the hosts withstood the storm to craft more history.
"The target now is getting to the quarterfinals," vowed coach Mutebi, "We are not going to the group stages as passengers but to compete."
In advancing, KCCA joined Mbabane Swallows of Swaziland, Township Rollers of Botswana and Horoya of Guinea as the first clubs from their countries to reach the group stage of the Champions League.
Club competition composition was increased from eight to 16 teams last year making it possible for many clubs to share the continental cake. KCCA were the first Ugandan beneficiaries.
The league and cup champions made the Caf Confederation Cup group stage, the second tier competition, last year after being eliminated from the Champions League by Mamelodi Sundowns.
For for their Champions League feat, KCCA will earn Shs1b more than what (US$275,000 [shs990m]) they got for the lower tier competition group stage last season.
PRIZE MONEY
Winner: $2.25m (Shs8.1bn)
Runners up: $1.25m (Shs4.5bn)
Semifinals: $875,000 (Shs3.1bn)
Quarterfinalist: $675,000 (Shs2.4bn)
Third in group: $550,000(Shs1.9bn)
Fourth in group: $550,000(Shs1.9bn)
KCCA FC player ratings
Charles Lukwago (GK).
Produced two good saves in the second half. 7/10
Denis Okot
Did not offer much going forward but combined well midway through the second half with a solo run past four that won the team a corner. 5/10
Timothy Awany (C)
The captain at times lost his line but made crucial clearances and remained calm in key moments. 5/10
Habib Kavuma
Hard to fault at the left of the three-man defence. His physical presence often got the edge over Behailu Assefa during one-on-one situations. 6/10
Isaac Kirabira
His tactical awareness kept opposite captain Umema Mentsenot quiet. Gave cover to the back three. 6/10
Allan Okello
Could have had his first goal on the continent but Robert Odongkara saved his header. Had neat interplay with the strikers, Mucureezi and Mutyaba but got tired early in the second half. 5/10
Muzamiru Mutyaba
His coach struggled to choose the best player on the day in the post-match press conference. But Mutyaba deserves it. He was impressive with ball retention and made endless runs through the middle. 8/10
Paul Mucureezi
Countered Bune Butako on the right but his industry did not materialize further. 6/10
Mustapha Kizza
The consistent element in the team that keeps delivering. Made a routine assist to Shaban from the left. 7/10
Derrick Nsibambi
Missed out on tucking the ball away on two occasions from Odongkara. 6/10
Muhammad Shaban
Got the vital goal to open his continental account. Took the game to centre-backs Salahadin Bargicho and Aschalew Tamene. More involved in a 3-5-2 system than before. 7/10
Compiled by Darren Kyeyune
The hero: Shaban's headed goal wrote a new chapter in KCCA history. PHOTO BY Eddie CHICCO