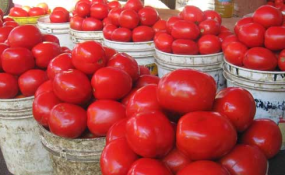 Photo: The Citizen Tanzania
By Kalunde Jamal
Dar es Salaam — Residents in the city are facing a shortage of tomatoes whereas traders claim this is due to the on-going rains.
A spot check by The Citizen found out that price ranges between Sh200 and 250 a piece, depending on size.
Retailers said they were now making no profits at all as wholesale prices were high.
Temeke Stereo Market chairman Rajabu Kingalu pointed out that there was a general shortage of tomatoes, and that a crate of tomatoes from Zanzibar now fetches between Sh90,000 and Sh100,000.
This is in contrast to the normal prices of tomatoes coming from Iringa, where a crate sales for Sh45,000 to Sh50,000 currently.
"Farm produce supply to city markets have gone down because of rain," said Kingalu adding that this created room for tomatoes of low quality now enter the market.
The survey further observed that a four-kilo container full of tomotoes at Temeke Stereo Market currently sells for between Sh8,000 and Sh9,000.
A vendor at the market, Ms Vaileth Shao, said they continued doing business because that this their business and not for the sake of making profits.
"A crate of tomatoes is sold for up to Sh100,000, so we don't make profits," she said.
A tomato trader at Kariakoo Market, Ms Faraja Kihwelo, also confirmed that tomatoe supply has gone down.
She noted that previously they were buying tomatoes from Zanzibar at Sh85,000 up to Sh90,000 per box but in the last two days the price has shot up to Sh100,000.
"I don't know what will happen if the situation persists," she said.
One Mariamu Hassan, a resident of Tabata, who usually buys her family supplies at Buguruni Market, said she decided to try the Kariakoo Market thinking that items there would be cheaper, but she was disappointed.
"I think it's better I go back to where I usually get my supplies. Things are better off there than here."