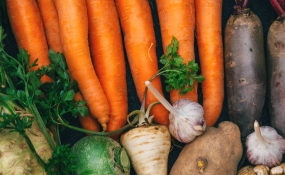 Photo: FAO
analysis
Former uMkhonto weSizwe fighter Errol April swapped his AK47 for apples. In 2013, April was given a Western Cape fruit farm to run as part of a government land scheme. With zero farming experience, the Mitchells Plain-bred soldier has succeeded in turning a previously debt-ridden farm around with the assistance of technical mentors and industry. In part one of a Daily Maverick series on land, we look at a case that defies the stereotypes. By REBECCA DAVIS.
Errol April, 49, is searching for the perfect apple, bending over leaves still glistening from recent rain.
"This!" he says, plucking a Golden Delicious and presenting it with a flourish. But April still isn't entirely satisfied. He presses forward through his orchards, seeking a superior example. April's favourite apple is the Royal Gala: a smaller specimen with a delicate pink blush. Delicious in desserts, he says.
Five years ago, what April knew about apples could fit on the back of an envelope. Today, they are his life.
The former uMkhonto weSizwe combatant is one of a relatively small number of black South Africans to date who have received formerly white-owned agricultural land to farm. On Wednesday, Parliament heard that by 2013, just 6.5%...