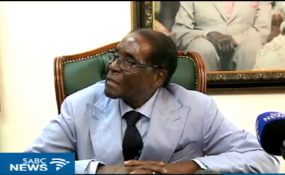 Photo: SABC Digital News/Youtube
opinion
By Daphine Zulu
Fragility of the body ultimately translates to fragility of the mind, as such Mr Robert Mugabe can be excused for gushing out nonsense from his delusional mind on the events leading to his ouster last November.
But to think that his wife, Grace, in her right state of mind would equally convince herself that her husband was still relevant as the Head of State, still the man of the people or even to believe that he was illegally removed from power, is dumbfounding.
One undeniable fact that Mugabe has got to face and acknowledge is that whether he believes that this was a coup or impeachment or retirement, or whatever, his time was long overdue and the country was fed up.
Honestly, who wouldn't be, in that circus of a first family where the father is the Head of State and Commander-in-Chief, the mother is the secretary of the ruling party's Women's League, cum de facto President; daughter finds herself as a member of the State Censorship Board, and a son-in-law who was busy running down the State airline, not to mention the two spoilt "Chazezesa Challengers" -- Robert Jnr and Chatunga -- who had been a menace locally and abroad.
In a country where unemployment was so high, Mr Former President, we were all fed up!
Whilst we mean well for the old man, at his age it is a norm that he has to rely on someone for proper functionality, it is plain to see that Mr Mugabe was and is still not in control.
Though Mr Mugabe might have been facing the cameras, I make reference to Grace because for so long she has been the face of the President, more than the President himself.
It's even sad that in his address he continues making reference to Grace, that is how Grace rescued Saviour Kasukuwere and Jonathan Moyo's families and how Grace convinced him to resign.
Isn't it ironic that despite him being the Head of State and Government then, he acknowledges that the Kasukuweres called out on Amai (Grace) in their time of need, clearly here he unknowingly accepted his incapacity to assist, but instead relied entirely on Grace for all decisions.
Mugabe says it was a coup, alas how then does he explain his resignation?
Given these testimonials from the horse's mouth, wasn't it then justified for Parliament to call for the impeachment of the old man, for he was no longer in control.
Whilst I might want to sympathise with Mugabe how does he explain his resignation letter which he submitted to the Speaker of Parliament if, as he claims, he was ousted by a coup?
How about officiating at the Zimbabwe Open University (ZOU) graduation? And the luxury and security he enjoys from that day till now?
To think that even after submitting his own resignation, Mugabe maintains that he was illegally removed from office by President Mnangagwa.
Isn't this merely the last kick of a dying horse attempting to save face and shame from the world after realising that an impeachment was underway (an important fact Mugabe significantly ignored in his narration of events leading to his ouster), so either way, he was going.
Whilst many might have limited knowledge on how a coup operates, this was certainly not a coup.
Mugabe resigned, he handed in his own resignation letter.
Apart from that, he was even recalled by his party Zanu-PF, moreover legislators were already in session for his impeachment before he then chose to step down.
Call it what you want Uncle Bob, it was time to go!.