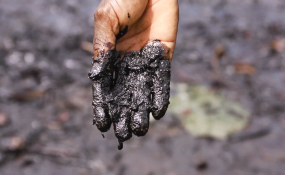 Photo: Amnesty International
By Prince Okafor
Amnesty International has accused international oil companies, Shell and Eni of negligence when addressing spills in Nigeria, describing their actions as "serious negligence."
Amnesty said the companies were "taking weeks to respond to reports of spills and publishing misleading information about the cause and severity of spills, which may result in communities not receiving compensation."
Shell had reported 1,010 spills since 2011, and Eni 820 since 2014, according to
Amnesty, which said among those 1,830 reports, it found 89 "about which there are reasonable doubts surrounding the cause provided by the oil companies."
But in a statement sent to Vanguard, Shell Petroleum Development Company of Nigeria Ltd (SPDC) denied the allegations levelled against it at the weekend by Amnesty International, reiterating its commitment to swift response to oil spill incidents as much as access and security conditions permit teams to mobilise and deploy to spill sites to investigate, clean up and remediate such areas.
"This is in addition to deploying technology and best practice to make it more difficult for unauthorised persons to break pipelines and steal crude oil from its facilities.
"SPDC, in collaboration with government regulators, responds swiftly to spill incidents as quickly as it can and cleans up spills from its facilities regardless of the cause," said General Manager, External Relations, Igo Weli.
"We regularly test our emergency spill response procedures and capability to ensure staff and contractors can respond rapidly to an incident. However, response to spills, clean-up and remediation depend on access to the spill site and ultimately, on the security of personnel and equipment while work is ongoing."
He said Amnesty International's allegations are false, without merit and fail to recognise the complex environment in which the company operates where security, a sole prerogative of government, remains a major concern with persisting incidents of criminality, kidnapping, vandalism, threats from self-described militant groups, etc.
Mr. Weli said the transparency in the online reporting of spill incidents by SPDC in its areas of operation since 2011, which Amnesty International itself acknowledged, demonstrates its commitment to creating awareness and enhancing collaboration with key stakeholders on oil spill response and clean-up processes and deepening understanding of the complex and challenging operating environment.
"Similarly, ENI spokeswoman said the rights group's statements "are not correct and, in some cases, not acceptable," adding it had provided a detailed response to Amnesty's allegations."