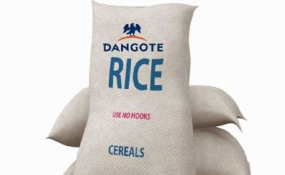 Photo: Premium Times
By Olushola Bello
The growth recorded in rice production has been facilitated by government policies and private investors like Dangote Group towards making the country achieve self-sufficiency in rice production.
Rice is a predominant staple crop in Nigeria, produced in over 18 states of 36 states. Production has increased at an annual average of 3.7 per cent over the past decade, reaching 3.7 million tonnes in 2017. Growth has been facilitated by an increase in area under cultivation for rice. The area under rice cultivation expanded from about 2.4 million harvested hectares in 2010 to 3.2 million harvested hectares in 2017, the highest in the last five years.
According to the National Bureau of Statistics, annual household expenditure on rice accounted for 10 per cent of household food spending and 6.6 per cent of total household spending in 2011. Similarly, the annual consumption per capita of 32kg on rice is the highest of any staple in Nigeria.
Research from PricewaterhouseCoopers (PwC) said, between 1961 and 1990, rice consumption increased from 240,000 tonnes to 2.1 million tonnes, growing at an annual average of 7.8 per cent per annum. The rapid increase in rice demand began in the 1970s, coinciding with the discovery of crude oil. The increase in economic growth as a result of the oil discovery raised per capita incomes, and consumption. In addition, the focus on the oil sector led to the neglect of the agriculture sector, resulting in slower growth in production.
It noted that "Nigeria continues to rely on rice importation to meet growing rice demand. Moreover, urban consumers generally have preference for imported rice as a result of the perceived higher quality. In the past five years however, rice imports have declined 33.3 per cent reaching 2.7 million tonnes in 2017. This decline has been attributed to reduced demand as a result of government's policies on import substitution, import tariffs and inclusion of rice in the list of 41 items ineligible for forex in the official market. Despite these, Nigeria remains the single largest rice importer in Africa and the world's third largest, with Thailand and India as its largest import sources."
According to PwC, the growth recorded in rice production has been facilitated by government policies towards achieving self-sufficiency in rice production.
"Government intervention in rice production has leaned towards providing inputs such as improved seedlings and fertilizer to small holder farmers. Also, some state governments have granted land concessions as an investment incentive to large commercial farmers. Towards improving irrigation, government is investing in various irrigation projects. The Zauro irrigation project for instance is targeted at developing water reservoir for the production of 42,000 tonnes of rice.
"In addition, through the Central Bank of Nigeria, funding has been made available to rice farmers at affordable rates through the Anchor Borrower's Programme. Also, favourable trade policies by the government, zero tariffs on machinery and equipment, quotas and licenses have positively impacted domestic rice production."
Recently, the Dangote Rice Outgrower Scheme in Jigawa State reached a turning point when the president of Dangote Group, Aliko Dangote laid a foundation stone for the construction of a multi-billion Naira rice processing mill in Hadin, Jigawa state.
The mill with capacity to process 16 metric tons of paddy rice per hour, when completed will in a year process paddy rice worth N14 billion bought directly from the famers in Jigawa at market rate.
Speaking at the ground breaking ceremony in Hadin, Kaugama local government area, Dangote said the commencement of the construction of the integrated rice processing plant was the culmination of series of events which began with the signing of a $1billion agreement with the federal government for the integrated rice production in Kebbi, Sokoto, Zamfara, Kano, Niger and Jigawa.
"We have continued to pioneer new approaches to empowering our primary stakeholders and our farmers, through the Dangote outgrowers programme thereby creating thousands of jobs, increasing incomes poverty reduction in rural communities by providing high quality agro-inputs, technical support and secured market for farmers. Also, creating access to finance, mechanization and irrigation services so as to enhance agricultural productivity," he stated
Recalling that the Dangote Rice Limited started the outgrowers scheme in 2016 with thousands of hectares of land in Hadejia, Jigawa state, creating over 10,000 jobs (direct and indirect) to farmers. The business mogul said with the new ultra-modern mill enough paddy rice will be grown and harvested for processing.
According to him, the mill which will take only months for installation and commissioning is the first in the series of five other mills coming up in Kano, Sokoto, Zamfara, Kebbi and Niger States in the first phase, while in the second phase, other mills will be built in Nasarawa, Kogi, and other states.
He said, "when these planned six mills come fully on stream, we will achieve a capacity of seven hundred thousand metric tons per annum of Par boiled rice, which will make Dangote Rice the largest rice producer in Africa and will make a bold step in making Nigeria self-sufficient in Rice production, stop importation save the nation's foreign exchange."
Dangote stated further that towards co-creating value for all stakeholders, the company has engaged about 20,000 out growers who are expected to produce an average of 180,000 tons of paddy rice on about 30,000 hectares of land. We are focused on engaging in the region of 300,000 farmers in the next 12 months when our rice mills are all functional and we achieve steady state."
The group executive director, Devakumar Edwin explained that the Dangote Rice team has been involved in scaling up the outgrower operations to a least 5,000 hectares this season and this will very soon increase and grow to over 15,000 hectares cultivated per cycle or season to fully optimise operations.
He said the establishment of a Multi-billion Naira state-of-the-art integrated rice processing facility to process at least 260 metric tons of rice paddy per day grown which is produced from thousands of local rice out growers within Jigawa state is a giant step forward and expresses his company's confidence and faith in local farmers to continuously stand with Dangote to make this project a success.
Located on 25 hectares site in Hadin, Edwin noted that the mill is earmarked to begin operations in the last quarter of 2018. "During the construction phase and when it becomes fully operational, hundreds of employment opportunities will be created, knowledge transference and skills developed among our teeming youthful population thereby boosting local economy."
According to him, "the Jigawa famers are in for a good times as the 125, 000 metric tons of paddy rice that this plant requires for processing will be brought from the farmers of Jigawa for an estimated purchase price of N14 billion per annum. This is a huge benefit for the farmers in Jigawa. This mill will be producing high quality parboiled rice that competes with the best in the world this is in-line with our continuous aim to touch the lives of millions who believe in the Dangote brand.
"Jigawa State is endowed and blessed with vast fertile land, water resources, climate and progressive people, as well as one of the fastest growing agricultural destinations in Nigeria, was identified as an ideal location for us to set up our first facility in Nigeria. This obviously reinforces our commitment to supporting the efforts of the present administration in developing a robust agro-industry in Nigeria.
"We made commitment to Nigerians that we will produce 1 million metric ton of quality par boiled rice. Since then we have embarked on several initiatives towards achieving this objective with support and collaboration from state and federal government agencies, ministries and departments, non-governmental organisations, community based organisations, traditional and financial institutions, etc., we continue to pioneer new approaches to empowering our primary stakeholders and our farmers, through the Dangote outgrower program thereby creating thousands of jobs, increasing incomes, poverty reduction in rural communities by providing high quality agro-inputs, technical support and secured market for farmers."