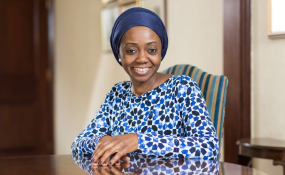 Photo: African Arguments
By Seye Olumide
Lawmaker representing Lagos Central on the platform of All Progressives Congress (APC), Mrs. Oluremi Tinubu has canvassed for more inclusiveness of women in governance, allocation of appointments, policy making and other aspects of leadership to incorporate the benefits of gender in all level of decision making.
Speaking during her 25 Town Hall meeting of the Lagos Central district over the weekend, she disclosed to back up her demand with a bill titled: 'Gender Equity and the Right to Economic Freedom' before the senate.
According g to her, "When both sexes work together a great lot of differences would be made and our nation would be best positioned to tackle most of the problems, which plagued our budding democracy." She also lamented that analysis of statistics of women holding public offices in the country shows that 14, approximately four percent of the 360 members of the House of Representatives are women. Seven, approximately 6.4 percent of the 109 senators are women and only five positions were conceded to women out of the 36 federal ministers.
The lawmaker added that beyond politics "there are fewer women in position of authorities." Meanwhile, some prominent leaders from Lagos Central have started a subtle but articulated campaign aiming to present a woman governor after the incumbent, governor Akinwunmi Ambode must have completed his term if he is reelected in 2019.
Although, the leaders which include the Lagos APC Chairman, Chief Henry Ajomale, Prince Tajudeen Olusi among others harped on the performance of Mrs. Tinubu in the senate posited, "By virtue of the way and manner, Tinubu has conducted herself in the senate, it is obvious that women could perform as good as men in politics."According to Ajomale, "Men are not the greatest obstruction to women in politics but the women folk, who would rather support men instead of their types when it comes to the issue of politics."