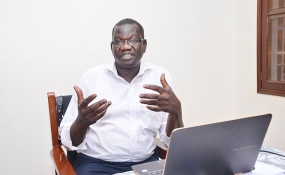 Photo: The Observer
By Baker Batte Lule
Forum for Democratic Change president Patrick Oboi Amuriat has said the party is now more united under his leadership than it has ever been in the last five years.
Speaking at the party headquarters at Najjanankumbi, Amuriat said that despite the divisive campaign that saw him defeat Gen Mugisha Muntu who was the incumbent, the party is now working together, and attracted new entrants and the returning of other members who had abandoned the party.
"Arising from the election I began to preside over a house that required healing; party cohesion took centre stage as we set out to do the work," Amuriat said.
In the early days of his leadership, Amuriat reached out to Muntu, Malcom Matsiko and Moses Byamugisha whom he contested with to try and convince them to work together as members of the same party.
"There is no disagreement on working together; this is a positive especially coming from someone who was our immediate former president. I feel fully supported because if they had reacted differently we would have a headache," Amuriat said.
On the new recruits in the party, Amuriat mentioned Dr Stella Nyanzi, the salacious Makerere University researcher, Vincent Mujuni Kyamadidi, a former MP for Rwampara county in Mbarara district and John Baptist Oseya, former mayor of Lugazi Municipality among others.
Amuriat was officially sworn in as FDC party president on December 1 2017 after defeating his competitors in the November 24 hotly contested election. In his first 100 days target, Amuriat set out party cohesion, reclaiming of FDC 2016 victory that was allegedly snatched from them by the NRM, revitalisation of party structures and women and youth development
He said contrary to what 'negative forces' have been saying, he has managed to hold several meetings of the working committee, the top most organ of the party that makes decisions on the day to day running of the party.
"We have considered leadership changes in parliament, approved the formation of the appointments committee led by Hon Wafula Oguttu, supported youth activities, approved women league activities," Amuriat said of the work the working committee has so far undertaken.
Other things that Amuriat says he has been able to achieve was the hosting of the founding president of FDC, Dr Kizza Besigye, held discussions with KCCA councillors, NRM and independents MPs who voted against the removal of age limits, DP president, Norbert Mao, Conservative Party's Ken Lukyamuzi, Jeema's Asuman Basalirwa, Truth and Justice's Erias Lukwago among other people.
Amuriat also said they have managed as a party to win back Jinja municipality East constituency recently won by Paul Mwiru amidst threats and intimidation by the high presence of police, the military and 'thugs armed with baton.'
"His victory is very important as it came within my 100 days. The president standing before you brings omukisa to this party,"
FDC has also been able to win Kyambogo University guild presidency through German Amanya. Similarly, FDC's Papa Salim Were also won the Makerere University guild presidency.
"Overall the first 100 days of my presidency has been success it's incumbent upon the party to move forward with these activities."