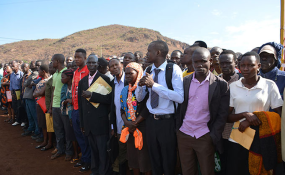 Photo: The Observer
By Sadab Kitatta Kaaya
When Chinese firm, Guangzhou Dongsong Energy Group, through Tororo area radio stations called for job applications, over 900 people applied for the advertised 92 job slots.
The firm was in 2013 awarded a 21-year mining concession in the sub-counties of Osukuru and Rubongi in Tororo district, said to be having a high concentration of phosphates and other minerals such as magnetite used in the making of fertilizers and steel respectively.
Even more job applications are expected, once the firm starts another recruitment phase at each of firm's recruitment centres at Sukulu, Ilyowa technical school and Mella technical school. The recruitment window closes on March 28.
Guangzhou had, for some days, been running radio announcements calling on natives of Tororo to apply for the various job openings at the multi-million dollar facility.
Among the hundreds of applicants, was 58-year-old Geoffrey Owor Osolo, who, two years ago resigned from his job as a security guard at Jinja Nile Resort hotel to dedicate more time to his farm back home in Osokuru, Tororo district.
He had about 30 heads of cattle that he thought, with his gratuity from Jinja Nile Resort, would give him a well-deserved retirement. But Osolo is now struggling to sustain his four children in the university.
"I am struggling to raise their tuition fees and other requirements at the university. I have had to sell off all that I had, the cows have reduced to only six which requires me to find a job again," Osolo told The Observer.
Armed with his documents in a kakhi envelope, Osolo waited patiently among hundreds of youthful jobseekers that lined up outside the main entrance to Guangzhou Dongsong Energy Group industrial park at Sukulu in Tororo district on February 28.
At the Sukulu industrial park, Guangzhou Dongsong Energy Group will also produce cement, glass, steel and free bricks in addition to fertilizers (its flagship product). In total, the investment is expected to cost more than $620m (about Shs 2.2 trillion).
1,500 JOBS
According to the company's chief executive officer Guo Yaqiong, they intend to employ about 1,500 semi-skilled Ugandans, who, in accordance with the agreement they signed with government, must be natives of Tororo.
"Our agreement with the government requires us to employ people from Tororo, we only look elsewhere if the people here don't meet our requirements," Yaqiong said.
More will be recruited as the firm opens more production lines, according to Yaqiong. Osolo was elated when he finally went past the long queues to submit his application letter and accompanying documents.
"I have to find employment so that I can provide for my children," he said.
The ongoing recruitment process is for drivers, watchmen, storekeepers, welders and supervisors, among others.
Given his experience from Jinja Nile Resort hotel, Osolo was confident that he stood a better chance than his youthful competitors for either of the jobs.
On the side was Brenda Akoth, who has been job-hunting for the last three years. When the 27-year-old mother of one graduated from Uganda College of Commerce Tororo with a Diploma in Logistics and Procurement in 2014, she looked forward to a good life only to taste the bitter realities of the world of unemployment.
Her diploma certificate will only serve to enhance her CV as she chose to apply for the "less competitive" job of stores manager.
The said project was launched three years ago in August 2014 by President Museveni as part of the government's response to curbing high unemployment rates in the country.
MINING CONCESSIONS
By October, construction of the first processing plant - the dressing plant - is expected to be complete. The dressing plant is used in the separation of different minerals from the soils that will be brought in from different parts of the country where the firm was awarded mining licenses.
Guangzhou Dongsong Energy Group (U) Ltd holds a 21-year mining license in Tororo, Masaka, Kabale and Moroto districts.
In Tororo, it will mine phosphate and magnetite while in Moroto, the firm will mine dolomite, an important raw material used in the making of glassware. From the hills of Kabale, it will mine hematite, a type of iron ore said to be the most pure used in making steel.
From Masaka, the firm will mine sand, a key ingredient in the making of ceramics. From the various mining areas, the minerals will be transported to Tororo for processing and manufacture of the end products with the exception of cement that will be produced by Hima Cement, according to a memorandum of understanding the two firms entered in 2016.
According to an official of the Chinese firm, under the MoU, Guangzhou will be producing a by-product that we will be supplied to Hima Cement for the production of refined cement for the market. In January 2017, Hima Cement commissioned a new factory in Tororo.