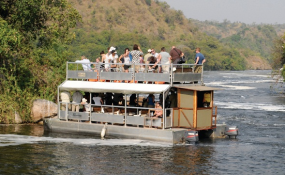 Photo: Jimmy Siya/The Independent
analysis
By Ronald Musoke
Kampala — According to official figures, tourism contributed up to US$1.35 billion into Uganda's export basket in 2016, and was the single highest foreign exchange earner; contributing 23.5% of total exports.
Based on those figures, the tourism lobby; which has advocates on the powerful Presidential Advisory Committee on Budget (PACOB) and is supported by the chairman of the Parliamentary Budget Committee, Amos Lugolobi, is lobbying for increased allocation of resources to sector agencies involved in promotion and marketing. They want the money allocated to the tourism sector in the 2018/19 budget raised from the current Shs16.4 billion to 29.5 billion - an increase of about 80%.
The tourism lobbyists cite the growing number of international visitors to Uganda, increased earnings, and sector contribution to the local job market.The officials say the tourism sector also employs 6% of Uganda's labour force. This includes employment by hotels, travel agents, airlines and other passenger transportation services).
Significantly, however, the lobbyists cite tourism's alleged contribution to national foreign exchange earnings. In one case, they say, over 30 tourism and travel companies that travelled to the ITB Berlin between March 9 and 11 were projected to clinch deals worth over Shs3 billion (Approx. US$1 million).
Most of these operators are funded by either the government or the donor community because, they say, they cannot afford to pay their way.
But, as such demands from the lobbyists increase, there is a growing rise in the number of questions about the authenticity of the tourism sector claims. Does tourism really contribute the money its promoters claim it does? How is the contribution of the tourism sector measured? Who actually benefits?
Statistics from government agencies like the Uganda Bureau of Statistics (UBOS) and the Ministry of Tourism, Wildlife and Antiquities show tourism revenues soared to Shs 5.1 trillion ($1.4bn) last year when the country attracted over 1.3 million international visitors.
Longer projections show that annual tourist numbers have continued to grow from just 650,000 in 2007 to over 1.3 million visitors in 2016--a growth of 106%. At this rate, local experts say, the sector is likely to achieve the four million mark by 2020 - just two years away.
Earnings from tourism are also said to have more than doubled. Between 2008 and 2016, for instance, annual sector earnings are said to have risen from US$540 million to $1.37 billion. That was 4.3% of GDP and 26% of exports.
The Ministry of Tourism, Wildlife and Antiquities' annual tourism sector performance report for financial year 2016/17, shows that tourism was Uganda's leading foreign exchange earner, bringing in US$1.4 billion.
But as tourism officials revel in the positive outlook of the industry, questions are also being raised about the quality of tourist data used. At the heart of the debate is how these agencies define a tourist.
Who is a tourist?
If you think your typical tourist is the scruffy heavy-back-pack-carrying white man or woman sweating and peering into a pair of binoculars in Queen Elizabeth National Park in western Uganda or Murchison Falls National Park in the north hoping to see a lion, you are wrong.
"When a person leaves their country of residence and crosses a border and spends anything between 24 hours and beyond but does not exceed a year, we regard that person a tourist," says Hellen Nviiri, the director population and social statistics at Uganda Bureau of Statistics (UBOS) who has been involved in capturing data on visitors to Uganda over the last 20 years.
Vincent Mugaba, the publicist for the Uganda Tourism Board (UTB), says a tourist is, in fact, anyone who travels from their home to another place for at least 24 hours but not exceeding a year.
Mugaba told The Independent that although most Ugandans think a typical tourist is one who visits a national park, even people who travel for other reasons; including visiting relatives, business, education, and health, are tourists.
"In tourism, there are different reasons for travel, and these range from leisure and recreation, business, religion, visiting friends and relatives, attending meetings, incentives, conferences and events (MICE)," Mugaba says.
Dr. Akankwasah Barirega, the commissioner for wildlife conservation in the Ministry of Tourism, Wildlife and Antiquities told The Independent on March 12 that Uganda adopted this definition from the United Nations World Tourism Organization (UNWTO) and put it in Section II of the Uganda Tourism Act, 2008. In other words, tourist is the same as visitor to Uganda.
Using this definition, it is perhaps not surprising that close to 70% of Uganda's tourist arrivals are, in fact not Europeans, Americans, Chinese, or Asians. They are Kenyan, Rwandan, Tanzanian, South Sudanese, Congolese and Burundian visitors. Only 15% come from the United Kingdom, the United States of America, South Africa and India according to the 2016/17 annual tourism sector performance report. Kenya and Rwanda, contributed more than 50% of the tourist arrivals to Uganda.
Surprisingly, however, the Uganda Tourism Board (UTB); which is the national tourism marketing agency, appears to base on the numbers of tourists from neighbouring countries to lobby for resources and concentrate its efforts on Europe.
Since January this year, for example, UTB has held promotional events in Vakantiebeurs in the Netherlands, the FITUR in Spain, the International Mediterranean Tourism Market (IMTM) in Israel and the ITB Berlin in Germany.
In 2017, UTB officials alongside the private players attended at least 15 tourism expos in the UK, Spain, Germany, Finland, China (twice), Japan, India and the United Arab Emirates (Dubai), Canada and the USA. Among our neighbours they went to Rwanda and Kenya, and farther afield to South Africa and Nigeria.
It is possibly because of this that some sector players, such as Albert Kunihira, the Chief Executive Officer of Pearl of Africa Vacations; disapprove of Uganda's definition of who a tourist is.
"A tourist should be somebody who travels with the first and main objective being tourism," he told The Independent on March 12, "To define somebody visiting a friend or a relative as a tourist is a bit defective," he said.
Kunihira says there are thousands of Congolese, Rwandans and Burundians, for example, who have lived in Uganda as refugees and have since gone back but since they left friends or relatives in Uganda, they keep coming back, thanks to the strong attachment they have for Uganda.
"These people often return to Uganda to see friends and associates and I would not call them tourists." Similarly, Kunihira says, he knows many Kenyans who come to Uganda, lease land and are doing farming here because land in Uganda is cheaper.
"I wouldn't call these people tourists although they could have registered at the border entry point as tourists," he says, "That definition is far too defective."
"I have also travelled to Kenya so many times every year to purposely do business and visit my daughter who studies there and although I sleep in a hotel, I have never visited any tourist site and I do not think the Kenya Tourism Board should ever register me as a tourist."
Walter Wandera, the director of Walter's Tours runs the Kampala BodaBoda City Tours. He too thinks the people who normally come to visit relatives and friends do not spend to the level of those who come for leisure and holidays.
Wandera finds that definition quite inadequate because some of the people who are visiting relatives or friends sometimes do not spend anything.
He says he does not understand how the statisticians come up with the tourist statistics considering that in the eight years he has been in business, he has never been approached to provide figures on tourists.
Marion Byengoma, the marketing manager of Arcadia Lodges Uganda also finds the definition of a tourist problematic. She says if someone is not actually planning to enter Uganda to visit a tourist area in Uganda, they should not be called a tourist.
But Akankwasah says it does not matter where the visitor comes from. Whether a visitor is from Congo or Kenya, they will use public transport, they will put money in the tourism value chain because they will eat in a restaurant and they will sleep in a hotel or lodge. Other tourism value chain items include admission to nature reserves, parks, and tourist recreation areas, tour vehicles, crafts, souvenirs and more.
"Every time people come into Uganda and stay for at least 24-hours, they spend money and that is what we capture; because they are spending money on hotel/lodges, public transport to visit at least one place," says UTB's Mugaba.
Akankwasah says this is possibly the reason tourism players yearn for leisure and nature tourism is because this brings in the biggest amount of revenue to the industry.
"That is why it is this category of tourists that we target more but it does not mean we disqualify other tourists."
But there is another challenge, according to Nviiri of the statistics bureau. She says to qualify someone as a tourist, in the real sense, UBOS looks at the reasons for travel because not everybody coming into the country is a tourist.
Usually the purpose of visit range from returning residents to prospective resident, those seeking employment, temporary employment, visiting friends/relatives, holiday, business/conference, in-transit, medical treatment, tourism, short contract/consultancy, investment, education and trade.
But, Nviiri told The Independent, UBOS is aware that some travelers do not want to declare their real intention of visiting Uganda. However, UBOS often has no way of verifying the information provided by the travelers, and it takes the answers as provided. She told The Independent that UBOS relies a lot on the information filled on the visitors' cards that are usually distributed at entry border points.
Out of the 1,206, 334 so-called tourist arrivals, 44% visited friends and relatives in 2013 compared to 48% registered in 2012. This was followed by business/conference at 25% and 16% came for leisure and holiday.
Up to 45% of travellers from Rwanda and 41% from Kenya said the purpose of their coming to Uganda was visiting friends and relatives. Another 15% from Rwanda and 14% from Kenya said they came for trade. Leisure and holiday took third place at 12% and 13% for Rwanda and Kenya respectively.
Cuthbert Baguma, the former executive director of the Uganda Tourism Board told The Independent that the issue should not be about arrivals, rather, it should be about segregating visitors by purpose.
"It is after doing so that you can capture those who come to spend time here on leisure /holiday," Baguma said, "If I am coming to visit friends or relatives, my impact on the economy may at times be inconsequential since it is possible that I might end up being a dependant throughout my stay."
Baguma told The Independent that the focus should be on efforts to catalyze those visitors who have come here to spend on leisure activities--hotels, restaurants, art and crafts, and transport.
"These kinds of visitors do not just come; there must be deliberate efforts to attract these kinds of visitors."
Indeed, in the tourism industry the world over, the holiday/ leisure tourists are the focal point for investment and product development as the return of this type of tourist is higher.
Careful planning needed
Experts agree that with careful planning and commitment of resources, the tourism sector has the potential to contribute to the strengthening of the fundamentals of the economy to enable Uganda harness her abundant opportunities. This is because, whatever the tourists' main motivation for visiting Uganda (leisure, business and meetings), they pay taxes.
Mugaba says when Uganda recently hosted the 25th annual East and Southern Africa Accountant Generals international conference in Entebbe, more than 1000 people came in for the conference.
"The delegates did not stop in Entebbe; they visited Mbarara and Jinja while others did tours of Kampala; but, remember, they had originally come to attend a conference."
But critics of UTB's current model want the definition and target of the tourism to be on individuals who travel to Uganda to enjoy its natural endowments which give her an edge over many of the popular tourist destinations in Africa.
Uganda stands out because it has more than 50% of the world's remaining population of Mountain gorillas, over 1,060 bird species, constituting 11% of the global population of bird species of mammals, 86 species of amphibians, 142 species of reptiles, 1,249 species of butterflies, over 600 species of fish and over 5,406 species of flora.
Uganda is also home to the source of River Nile, the longest river in the world, Lake Victoria, the largest fresh water lake in Africa and Mountain Rwenzori-- the renowned mountains of the moon which is also the only mountain in the world with snow cap on the equator. Uganda also has 10 national parks, 12 wildlife reserves, 10 wildlife sanctuaries and five community wildlife management areas.
However, visitors to national parks have slightly increased by 31,801 persons from 2012 (182,149 people) to 2013 (213,950) representing an increase of 17.5%.
The visitors to national parks since 2010 registered an increasing trend with 2013 having a 17.5% increase from 2012 with foreign non-residents dominating the visitation of national parks for the year 2013 with 47% followed by East African residents (EAC) at 24%.
Nviiri acknowledges the challenge of getting quality data on tourists in the country. She told The Independent that the quality of tourist figures will markedly improve when the Ministry of Internal Affairs introduces an electronic visa to ease the mode of capturing this vital information on Uganda's visitors.