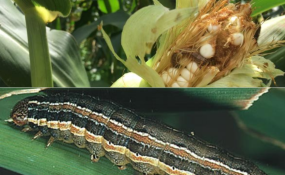 Photo: allafrica.com
By Thin Lei Win
Rome — Researchers looking to steal a march on a maize-eating pest that has infested millions of hectares of crops in Africa over the past two years are deploying an app as part of their efforts to combat it.
The fall armyworm, which is native to the Americas, is now present in all but 10 African countries, and threatens the food supply and income of more than 300 million people, the United Nations' Food and Agriculture Organization (FAO) said.
Maize, also known as corn, is a staple food in Africa.
"We don't know how (this pest) is going to move from one part of the country to another, or from one country to another," said the FAO's Lewis Hove, who is based in South Africa.
The rapid pace of the fall armyworm's spread led the FAO to launch a smartphone app on Wednesday to map it. Hove told the Thomson Reuters Foundation the app would help governments, researchers and donors better understand the threat.
An updated version, scheduled for release in a few weeks, will also give farmers advice on how to protect their crops.
EXTENSIVE SPREAD
The fall armyworm was first detected in central and western Africa in 2016, the FAO said. Since then it has spread widely.
In Malawi alone it has infested over half a million hectares of mostly maize fields, said Hove, and another 150,000 in Swaziland, Zambia and Zimbabwe.
"So when you're talking about the whole of Africa, it is in the region of millions of hectares," he said.
The Centre for Agriculture and Biosciences International, a research body, has warned the pest could cause annual losses of between 8 and 20 million tons of maize worth billions of dollars in just a dozen African countries unless urgently controlled.
"This represents a range of 21-53 percent of the annual production of maize averaged over a three year period in these countries," it said last year.
Although crop plants are destroyed by the fall armyworm caterpillar, experts said, it is the moths that are of key concern: the female moth can fly up to 100 kilometres (60 miles) a night, and lay 1,000 eggs in her lifetime.
Mapping that spread is key to combating the threat, the FAO said. Farmers simply check 10 plants in a row in five different locations in their field, and mark in the app whether the fall armyworm's larvae are absent or present.
The app, which runs on Android smartphones, then calculates the infestation level.
Once that data, including the field's location, is uploaded to the FAO's servers, it goes to a web-based platform where researchers and others can view it, said Keith Cressman, who led the app-development team.
Studies show smartphone usage in Africa is low, but Cressman, an FAO senior agricultural officer, said the FAO's emergency support to combat fall armyworm includes money to help countries get low-cost smartphones to farmers.
"The smartphone is quite a good solution as long as there are low-cost options available - the app is simple and intuitive to use, and the transmission costs are not high and not covered by the farmer," he said by phone.
"We want to make it very simple, very practical."
VORACIOUS APPETITE
The United States Agency for International Development (USAID) is also involved in efforts to combat the pest. As part of that it is looking to bring African policymakers to Brazil, which has long dealt with the problem.
"The fall armyworm outbreak is especially alarming because it's resistant to many other conventional pesticides and has a voracious appetite that targets maize, sorghum, millet and even non-staple crops like cotton," said USAID's Jason Fraser.
He said USAID was already training African scientists and farmers, and would look to award a prize for innovative solutions that use digital technology to combat fall armyworm.
Fraser, who coordinates USAID's Fall Armyworm Task Force, said researchers were also looking at solutions such as pesticides and seeds resistant to fall armyworm, as well as traditional practices such as applying sugar water to plants.
Another possible remedy, from agribusiness giant Syngenta, would see maize seeds coated with chemicals before planting, which could protect the plants for up to 30 days.
In the United States, farmers use genetically modified plants and advanced pesticides. However, experts said, those methods would likely prove too costly for smallholder farmers in Africa, and could harm the environment and crops.
"We want to be able to help countries understand what the available methods and technologies are ... and have African policymakers and leaders make decisions for themselves about what's best for their country," said Fraser.
- Reporting By Thin Lei Win @thinink, Editing by Robert Carmichael