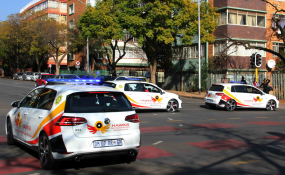 Photo: South African Police Service
press release
Pretoria — Several media reports have suggested that the Directorate for Priority Crime Investigation (Hawks) is investigating the Public Enterprise Minister Pravin Gordhan in relation to the SARS High Risk Investigation Unit probe.
For the record, the media allegations are devoid of any truth. To put the record straight, there are no investigations nor impending charges preferred against Minister Pravin Gordhan.
The DPCI and the National Prosecuting Authority have formally charged three accused persons - Mr Ivan Pillay, Mr Johann van Loggerenberg and Mr Andries Janse van Rensburg - and have been issued with summons to appear in the Pretoria Regional Court on April 9, 2018 on alleged charges of corruption and contravention of the Rica Act.
It is thus not true that the Hawks are gunning for Minister Pravin Gordhan. It is also not true that any official from the Hawks briefed the former Minister of Police, Fikile Mbalula, of any investigation against Minister Pravin Gordhan nor provide him with any information detailing developments and so called compelling evidence.
The reports are an indication of an atrocious disregard for the truth and a total falsification of facts. It is the Hawks observation that the media reports are being motivated by personal agendas and a willing channel of anonymous mischievousness.
The DPCI will endeavour to reach out to members of the media where it could. We are however disappointed about being dragged into myths by some section of the media which are clearly intended to solidify and perpetuate untruths rather than facilitate their elimination.