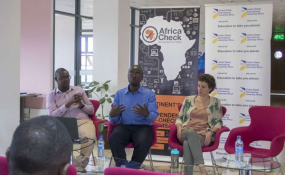 Photo: Daily Nation
By Kevin J. Kelley
The US embassy in Nairobi is launched a campaign to counter the spread of false news -- first in Kenya and soon in all of Africa.
The multi-pronged effort comes amidst exposés of concocted news stories and other unethical tactics employed by consulting firms such as Cambridge Analytica to sway election outcomes in Kenya and other countries.
MEDIA LITERACY
US Ambassador Robert Godec unveiled the year-long initiative last week.
Under the Twitter heading #StopReflectVerify, the US is partnering with Kenyan organisations and young activists to curb the spread of disinformation through educational videos and internet postings intended to promote "media literacy."
"Fake news is undermining confidence in news media in Kenya," a State Department official said on Monday. "A free and strong media is necessary for a strong democracy."
The campaign involves three-day training sessions for public affairs officials in Kenya's counties to encourage local governments to be more responsive to journalists seeking to fact-check claims.
Kenya's 2017 presidential election campaigns were tarnished by numerous instances of false information being widely transmitted through the popular online Facebook messaging platform WhatsApp.
London-based Cambridge Analytica used "data-mining" and image-manipulation techniques in its work for President Kenyatta's election campaigns in 2013 and 2017.
"We have rebranded the entire party twice, written their manifesto, done two rounds of 50,000 surveys," Cambridge Analytica political division director Mark Turnbull says in regard to Mr Kenyatta's Jubilee party in a video secretly recorded by Britain's Channel 4.
"Then we'd write all the speeches and we'd stage the whole thing. So just about every element of his campaign," Mr Turnball boasts.
Cambridge Analytica was co-founded by Steve Bannon, formerly President Trump's top political aide in the White House. The firm is said to have been instrumental in securing Mr Trump's 2016 election victory, which may also appears to have been aided by transmitters of fake news.
But even as it campaigns against political disinformation in Kenya, the Trump administration is doing nothing to counteract false news in the US.
Ambassador Godec's #StopReflectVerify project is aiming to mobilise the 47,000 Kenyan members of the Young African Leaders Initiative (Yali).
Kenyans affiliated with this US outreach programme aimed at prospective African leaders are being urged to stop, reflect and verify before forwarding what could be fake news.
The US effort is scheduled to be broadened beginning on April 2 to include the more than half-million Yali members throughout sub-Saharan Africa.
Yali is regarded as one of former President Obama's most effective attempts to apply US "soft power" in Africa.
Some 10,000 young Africans have taken part in seminars and other programmes in Washington since Mr Obama launched Yali in 2010.
"Yali continues to enjoy strong support in the United States, in Congress, in the academic community, and across Africa," the State Department says on the programme's website.
Mr Trump wants to slash Yali, however. His US budget proposals have included a 50 percent cut in funding for the programme.