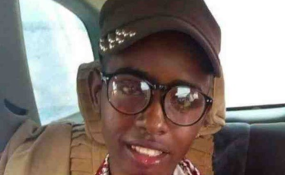 Photo: Daily Nation
By Abdulkari Khalif
A sixteen-year-old boy has rejected an appointed as the deputy commissioner of a regional state in Somalia because of security fears.
Feisal Abdullahi Omar was to take up the role in Jowhar, the headquarters of the south-eastern state of Hirshabelle.
Omar was last week appointed by Hirshabelle State Interior minister Mohamed Ali Adle to the role in Jowhar region.
The teenager told the media that taking up the role would make him a target for the Al-Shabaab militants, who continue to reign terror in the Horn of Africa state.
"I am still a student at Sheikh Hassan Barsane School in Jowhar. The minister of Interior Affairs sent me an appointment letter," Omar told journalists.
"I want to resign from that post because I can't manage it," he added.
"I am making it clear that I am unable to perform that responsibility because you have seen the insecurity in the country."
Omar says he was not consulted about the appointment, which are made by Somali clan leaders, and he wants to instead focus on his studies.
Omar's parents also had reservations about the appointment. But others in the community told him that it would be an opportunity to be a "role model to the youngsters", he said.
"I met a lot of people who are pushing me to take this job," he said.
Additional reporting by BBC