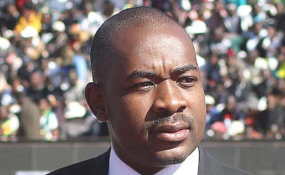 Photo: The Herald
By Costa Nkomo
The Movement for Democratic Change (MDC) Alliance President, Nelson Chamisa has today spelt out his party's ten key demands to President Emmerson Mnangagwa's administration ahead of the do or die harmonised elections set for July or August this year.
Speaking at the launch of the peace document in Harare today, Chamisa said they will make their demands for a credible plebiscite are met before elections, ruling out any chances of boycotting elections.
"We are not convinced that ZEC is entirely independent, why do we say so, there has not been an explanation of the resignation of ZEC chairperson Rita Makarau and the replacement by Chigumba, why was it done, what were the circumstances that have not been furnished to the nation, and we smell a rat not just a rat but a big rat in terms of their conduct and their behaviour especially in the context of the factions around the 'Lacoste' and the G40," said Chamisa.
The MDC-T leader said the military should make an irrevocable statement that they will respect the outcome of the elections.
"We also want the military to make an irrevocably statement to say that they will respect the will of the people, you all know that in 2002 they declared that they will not salute any civilian leader, they must undeclared that declaration," said Chamisa.
"We will not do anything without dealing with the issue of ballot papers and the ink that is going to be used. On this one we are prepared to surrender ourselves before we surrender our victory, this is so important," added Chamisa
The peace document which the MDC-T President said has been submitted to Southern African Development Community (SADC) election observer group and the African Union (AU) includes demand for transparency on the printing of ballot papers and BVR auditing among other key issues.
MDC-T also called for the diaspora vote, impartiality of state media and traditional leaders, alignment of electoral laws with the Zimbabwe constitution and an end to violence and intimidation of people in rural areas.