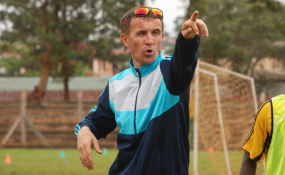 Photo: Daily Monitor
By Denis Bbosa
Kampala — At long last, former Uganda Cranes coach Milutin 'Micho' Sredojevic can afford to smile after Fufa and government cleared his arrears.
The Serb quit Cranes for South African giants Orlando Pirates in July after a five-year marriage but left with dissatisfaction citing non-payment of his Shs230m salary and allowances.
Fufa finance officer Decolas Kiiza yesterday revealed to the media that they had cleared Micho's bill.
"Government contributed $20000 and the federation put $34000 to make the $54000 (Shs194m) payment," Kiiza said.
At his farewell speech held at Kabira Country Club, Bukoto in July last year, Micho, who guided Uganda to the 2017 Total Africa Cup of Nations (Afcon) after 38 years of waiting, demanded that his outstanding debt of salary and bonuses of Shs230m (US$64,000) be paid immediately.
"Honest appreciation and sincere gratitude to Fufa president Moses Magogo that presented himself as man of his words," Micho greeted the news via Twitter.
"For fulfilling promise by clearing the outstanding salary arrears owed to me. Thank you very much. All the best in all your future endeavors and challenges."
Relatedly, government has extended financial aid to Cranes players preparing for the two friendly games against Sao Tome and Principe and Malawi.
Fufa received Shs4.bn from government supplementary budget in January to last for six months. So far, 50 percent of the released funds in the third quarter has been used to cater for Chan tourney adventure in Morocco and paying head coach (Sebastien Desabre's) salary.
Kiiza revealed that Desabre has already forwarded them a list of 50 players that were paid the Shs1m monthly salary agreed upon with government.
The 50 players (25 local based national team players, 15 Under-23 and 10 under-17) plus six technical team staff have reportedly received Shs19m payment for their welfare.
"We want to thank President Yoweri Museveni for the financial bailout. We no longer have to cry in the media or go to State House for money because everything is now streamlined. "These are surely good times for football," Fufa president Moses Magogo told the press yesterday at Mengo.