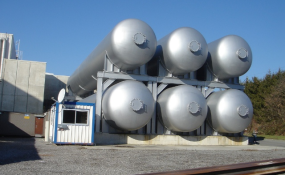 Photo: Daily News
By Michel Nkurunziza
The Ministry of Environment is set to conduct a detailed energy efficiency market survey that will inform new policy aimed at introducing new non-pollutant cooling technologies by restricting imports of air pollutant gases used by fridges and air conditioners in the country, Environment minister Vincent Biruta said yesterday.
The survey will be done under the Rwanda Cooling Initiative.
The minister announced this at the Africa cooling efficiency conference in Kigali that attracted experts from across the world to assess the impacts of demand for refrigerators and air conditioners in Africa.
Biruta told the media that initiative is funded by [philanthropic project] Kigali Cooling Efficiency Programme that was initiated following the 2016 Kigali Amendment to the Montreal Protocol.
Kigali Amendment to the Montreal Protocol was adopted in 2016, paving way for the phasing out of dangerous greenhouse gases known as hydrofluorocarbons, while Kigali Decision on Energy Efficiency was also adopted at the same meeting.
Research shows that, once implemented the Kigali Amendment to Montreal Protocol will reduce 0.5 degree Celsius of global warming.
The minister explained that the plan is to put in place regulations that promote energy efficient equipment and reduction of air pollutant gases, both at home and for the industry by 2019.
"That's why we need to move quickly to set the standard, and explain the benefits to consumers in a language they understand," he said.
The decision, he says, represents a very positive step toward taking advantage of the global energy efficiency opportunity.
Taking advantage of the funding
"We encourage nations to take advantage of the fast-start funding through Kigali Cooling Efficiency Programme. In doing so, we ultimately contribute even more significantly to the Paris [climate change] Agreement," Biruta said.
Kigali Cooling Efficiency Programme (K-CEP) envisages having environmentally friendly and energy efficient cooling technologies in companies, communities and industries as well.
The programme has a budget of $52 million to strengthen institutions, support policy, enable technology, leverage finance and make cooling accessible.
Biruta said, with economic growth in Sub-Saharan Africa expected to increase to 3.2 per cent in 2018, there is no time to lose in ensuring this growth is matched with increases in energy efficiency.
The minister encouraged nations to ratify the Kigali Amendment considering that so far 28 ratifications have been reached.
He expressed hope that many more will come on board before the amendment enters into force in January 2019.
Morris Kayitare, the Rwanda Cooling Initiative leader at UN Environment Rwanda, said they were ready to help government to set guidelines that will see imported fridges and air conditioners use less energy, non-pollutants gases and also help to reduce prices.
"It is not good that people buy a cheap fridge which never lasts yet it consumes a lot of electricity," he said.
According to Kayitare, there are about 100,000 fridges across the country and seeing that by 2024 all Rwandans will have access to electricity and buying cooling equipment, regulations will help restrict imports of pollutant gases.
In 2016, Rwanda recorded consumption of 2.6 tonnes of [ozone depletion potential] hydrofluorocarbons, according to information from the Ministry of Environment.