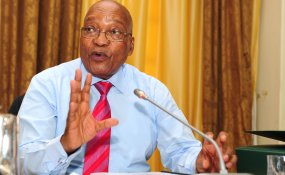 Photo: GCIS
analysis
By Susan Booysen
The last week showed again that the game is not over and that former president Jacob Zuma is holding the ANC to a certain type of ransom. Zuma's objective is revealed: to make his own prosecution too ghastly for the ANC to contemplate.
The long shadow of former president Jacob Zuma continues to fall over South African and African National Congress (ANC) politics. As the days accumulate since Cyril Ramaphosa's takeover and Zuma's resignation, the evidence also mounts of the obstacles to moving from that political transition to exorcising Zuma and his circle from government and state power.
On both ANC and state fronts, it is a gradual game of immobilising Zuma further; of smoking out the Zuma kingpins in state entities. The last week showed again that the game is not over. South Africa was bombarded with strokes of revengeful Zuma fightback from where he hovers by the side of his political grave. Self-sacrifice is not on Zuma's menu. Hence, as far as the ANC goes, Zuma follows the dictum of "if I cannot be the king of the ANC, the ANC will suffer".
If only there had been a clear-cut line of division between opponents and allies. Deputy...