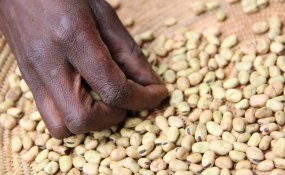 Photo: Anders Kelto/PRI
By Zephania Ubwani
Arusha — Local producers and exporters of pigeon peas are disappointed by the government's silence on the blocked market of their produce to India.
"Why is the government quiet and not publicly expressing our dismay over the matter?" asked Mr Daniel Charles, the CEO of Kilimo Markets, an Arusha-based trading firm.
He said what India, the traditional and major buyer of pigeon pea and other pulses from Tanzania, did was a violation of the international treaties on trade.
With India's ban on importation of pigeon peas from Tanzania last August, the Sh500 billion ($240m) industry is facing imminent collapse, leading to cash woes for the producers and exporters.
Mr Charles wondered why India was justified to effect the ban which, according to him, could have been avoided had the government made appropriate interventions, including seeking a waiver for the ban.
"Rules in international trade agreement dictate when there is over-supply due to over-production and other factors,you raise the import duty and not ban imports," he told The Citizen at the weekend.
He likened the ban to deliberate discrimination against Tanzania, which exports over 90 per cent of its 160,000 to 180,000 tonnes of pigeon peas produced annually to India.
To rescue the multi-billion shilling industry from instability, he proposed a shift of focus of export market from Asia to North America and a change by the farmers to other cash crops.
"We know that farmers don't change so quickly. They often feel it's a big risk for them to change because they can do so and miss the market," he said.
Another suggestion was for Tanzania and other major producers and exporters of pigeon peas to form alliances and argue their case with multi-lateral trade bodies such as the World Trade Organisation (WTO).
He said Kilimo Markets and a dozen of other local exporters tried to convince the Indian authorities to restrict "certain quantities" of pigeon peas after the ban without success.
Mr Simon Mapolu, a business consultant based in Arusha, said Tanzania was to blame for the woes facing pigeon peas producers and traders.
"You don't have to rely on one importer. India is not the only consumer of pigeon peas," he told The Citizen recently, adding that the ministries concerned should have developed a "holistic marketing strategy" to address such eventualities.
He added, "We should have looked for alternative markets. Suppose they didn't buy from us?"
Pigeon peas is now one of the leading cash crops for smallholder farmers in Ausha, Manyara and parts of Kilimanjaro, Morogoro, Mtwara and Dodoma regions.
"We have developed disease-resistant pigeon peas seeds," said an agricultural consultant, Mr Steven Lyimo, when speaking to the farmers in Karatu District recently.
Tanzania is ranked among the six leading countries in the production of pigeon peas after India, Myanmar, Malawi, Uganda and Kenya.
It is estimated that more than 100,000 hectares are under cultivation of the drought resistant legume each year with Babati being the leading district.
Experts from the Arusha-based Selian Agricultural Research Institute said the farmers' yields having more than doubled from about 2 to 3 bags an acre in the 1990s to 7 and 8 bags per acre todate.
According to a report on rapid assessment of the impact of India's restriction on pigeon peas import, pulses exporters believe India had violated WTO rules under which each member country has to base its trade policies and practices.
WTO rules prohibits member countries from imposing quantitative restrictions as India did to Tanzania on August 5, 2017.
They call for WTO mediation where Tanzania and India could discuss and resolve and agree on this issue. Since the Tanzanian government has not received any feedback from the Indian government, the private sector in Tanzania advises the government to seek a redress for an amicable solution through WTO mediation.
India is the largest producer and importer of pigeon pea in the world. In 2016, it imported 94.5 per cent of all pigeon pea traded in the World.
It is followed by United Arab Emirate that imported 2.3 per cent and US that purchased about 1 per cent. Major suppliers of pigeonpea to the India market in 2016 in order of importance were Myanmar (32 per cent), East Africa including Sudan, Malawi and Mozambique accounted for 47 per cent of total Indian imports.
Tanzania leads the pack with 26 per cent, followed by Mozambique (19 per cent), Sudan (8 per cent), Malawi (7 per cent), Kenya (4 per cent) and Uganda (3 per cent). Other countries made the remaining 1 per cent.
Acting director general of the Cereals and Other Produce Board (CPB), Mr George Mboje, says the biggest challenge for Tanzania pulse business was to rely solely on Indian market.
"The strategy we are focusing on is to look for other markets beyond India and improve local consumption of the pulse, our foreign embassies are helping us to establish links with China but we don't want to rely on India anymore," he said.
Timelines
July 2016: IndiaPrime Minister, Narendra Modi, visits Tanzania and encourages production of pulses for export to India
August 5, 2017: India restricts Pigeon peas imports (import quota of 200,000 MT)
August 11, 2017: India bans pigeon pea imports. Countries with MoU/bilateral agreement exempted August 28-29 2017: Bilateral trade meeting between India and Tanzania in New Delhi