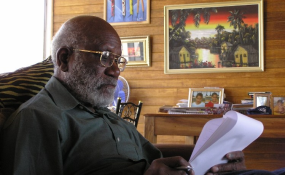 Photo: The Namibian
By Ndapewoshali Shapwanale
Andimba Toivo ya Toivo's widow, Vicki, yesterday said she wished her husband was alive to enjoy and be part of the activities at the new family farm that they have been allocated by government.
Ya Toivo spoke yesterday amid a public outcry over the farm. The outcry erupted last week when information leaked on social media platforms that Ya Toivo had been allocated the farm in the Omaheke region.
Some people said Vicki ya Toivo, a well-educated and well-off lawyer, should not have benefited from the resettlement programme meant for previously disadvantaged Namibians.
She, however, said the family was grateful to receive a portion of Farm Joyce, and that she was sad that her husband was not alive to relax on the farm.
"This was his dream," Ya Toivo told The Namibian yesterday, adding that the family would move to the farm within 30 days.
Ya Toivo said her husband, who died in June last year, rented a commercial farm near Grootfontein before the government resettled them at Farm Otjimue, 60km from Omaruru, to accommodate their livestock.
"The leasehold farm allocated to him was in a deplorable condition. It had no housing structures for workers, no farmhouse, a broken borehole, and broken or no fences in some areas. Many parts of the plot were rocky, and the area often receives little or no rain," Ya Toivo told The Namibian.
She added that her husband invested "a lot of money to make this plot operational, including building housing for workers, repairing the borehole and erecting fences, as well as replacing pumps".
According to Ya Toivo, her husband could not enjoy the benefit of Farm Otjimue because there was no farmhouse, and he could not travel there as he grew older.
This led to her late husband applying to swap the farm for another one "that was closer to his home and had a farmhouse" in 2016.
"My family and I are grateful to receive the portion of Farm Joyce so that we can continue and expand the family project started by my Andimba, under more favourable circumstances.
Ya Toivo further said she applied for the Farm Joyce portion to secure "a suitable resettlement farm" for the family in place of Farm Otjimue, which she had inherited.
The ministry did not respond to detailed questions sent to them on Tuesday morning.
When approached for comment shortly after the Independence Day celebrations at Tsumeb yesterday, land reform minister Utoni Nujoma avoided answering questions regarding the Ya Toivo resettlement.
"Who is asking on behalf of the public, and appointed by who? We have been elected, and given a mandate by the people. We are trying our best," Nujoma said.
A former member of parliament, Michaela Hübschle, took to social media to denounce government's decision to resettle Ya Toivo. She pointed out that Ya Toivo is American-born, and that the family already has a farm.
"Are our well-to-do comrades not able to buy their farms? Agribank is there for you," Hübschle said in her Facebook update.
She continued: "This is an unholy action and a slap in yes, a slap in the face of our many poor, landless people who lost their ancestral land".
Acting president of the opposition Congress of Democrats, Elago Vaino Amutheno, charged in a press statement that the list of resettlement beneficiaries published in the Monday advert again shows exactly what is wrong with the government's present resettlement plan.
Amutheno said the advert also explains why government is reluctant to publish the list of resettled beneficiaries to date.
"It says to us the poor, loudly and clearly, that the only criteria for resettlement are rank favouritism and political connections," the opposition leader said.
"Our people will not forever sit back and wait docilely while the politically connected dole out the wealth of the country, yet the poor must queue for scraps at the Harambee food bank," he added.
Additional reporting by Tuyeimo Haidula.