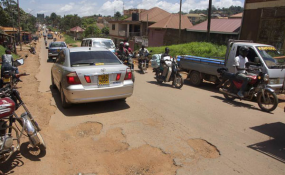 Photo: Alex Esagala/Daily Monitor
By Amos Ngwomoya
A number of city roads, whose construction had been scheduled to commence this year, have been put on halt over lack of funds, Daily Monitor has learnt.
Officials in the engineering directorate at Kampala Capital City Authority (KCCA), who declined to be named because of the sensitivity of the matter, intimated that management is currently courting the President to bail them out before contractors pull out.
Some of the projects likely to be affected by the lack of funding are Kulambiro-Ring Road, Lukuli Road, Old Port Bell Road, Nakawa-Ntinda Road, John Babiha/Acacia Area and Sir Apollo Kaggwa Road, Kabuusu.
The current road projects in the city are being implemented under the second Kampala Institutional and Infrastructural Development Project (KIIDP-2), a $183m five-year World Bank project, which commenced in 2015.
Although government is supposed to provide supplementary funding to the project to the tune of Shs20 billion from the Road Fund, the pledge as reflected in the 2017/8 KCCA budget is not forthcoming as its being allocated in instalments.
Overall, KCCA was meant to receive Shs337b for the Financial Year 2017/2018 but officials say this not been remitted, hence increased funding gaps.
"Government sends us money every quarter but this money at times comes in installments, which makes it hard for us to proceed because we cannot only rely on the World Bank money. The condition is that they cannot give us money for that project if we have not shown commitment," the official said.
Option
The official noted that apart from the already commissioned road and drainage projects, whose work kicked off last year, KCCA will now attend to emergencies only as they wait for funding from government.
This newspaper could not ascertain the total amount KCCA owes the contractors.
Ms Beti Kamya, the Kampala minister, acknowledged that KCCA is grappling with funding challenges but noted that government will find the money for the road projects.
"I am aware that there are financial challenges at KCCA but I call upon everybody to be calm as government finds urgent means to plug the funding gaps. However, roads whose construction had already kicked off will continue," Ms Kamya said.
But for the halted projects, she asked Kampala residents to cooperate with KCCA instead of blocking development, adding that some residents have surrendered their land for the roads projects as they wait for government compensation.
Kampala Lord Mayor Erias Lukwago said the current stalemate at KCCA is likely to affect the progress of some projects because council no longer convenes following the minister's directive.
"If we were sitting as council, we would expect the executive director to submit the quarterly reports to us to see how our treasury is performing. When we get those reports, we would then take it up to ascertain the exact problem," he said.
He said his deputy and other members were tasked to engage KCCA's technical team on when council meetings could resume.
KCCA had also undertaken to construct drainage channels but this will not be realised due to the meager budget. They include Lubigi, Kinawataka, Kansanga, Gaba and Nalukolongo.
However, KCCA has since completed construction of some roads such as Makerere Hill, Mambule and Kira, among others, which are signaled.
Mr Peter Kaujju, the KCCA director for corporate and public affairs could not be reached for comment as he did not pick our repeated calls and neither did he reply to our messages.
KCCA is currently operating on a shoe-string budget following a drop in the revenue collections from Shs120b to about Shs80b, according to officials. For instance, since November last year, KCCA has not collected any revenue from taxi operators following President Museveni's directive to have their monthly road user fees slashed from Shs120,000 to Shs80,000.
Since the directive, no single penny has been remitted to KCCA because government has not come up with guidelines on collection of the new fees.
Officials say the slashed fees will see KCCA lose Shs16b. Boda bodas do not pay any penny either. Such revenue constraints, officials said, have severely affected the KCCA treasury hence bringing some projects to a halt.
KCCA heavily relies on non-tax revenue to finance its projects, implying that a drop in revenue collection would affect service delivery. They have been collecting about Shs100b annually but this is likely to drop due to the current controversy in the revenue collection system.
Last week, a business committee meeting for the engineering directorate was held at City Hall to discuss how to handle the looming financial crisis.
However, the meeting, our sources said, was unable to exhaust the matter and decided to forward it to the top management for further scrutiny to enable the construction works to start.
Looming suits
Daily Monitor has learnt that there are many contractors who have threatened to sue KCCA over non-payment.
Currently, 48 roads with a total length of 54.145km are under construction, reconstruction and upgrading. But if the construction works on the scheduled roads do not commence, KCCA officials say that there will not be coordination of urban mobility.
In January, it was revealed during a council meeting at City Hall that KCCA is choking on a Shs27b debt accrued from Uganda Revenue Authority's Pay as You Earn and National Social Security Fund contributions.
However, city leaders attribute the current financial meltdown on the reduction in taxes on informal businesses in the city following a presidential directive.
Daily Monitor has learnt that KCCA officials led by Minister Kamya will meet the President on March 28 to discuss the city's status in terms of transport, revenue, administration and service delivery, among others. Ms Kamya confirmed the meeting.
PROGRESS ON ROADS
According to statistics from KCCA, Kampala is covered by a 2,100km road network. However, only 500kms are paved. Since KCCA's inception in 2011, a total of 196 roads with a total length of 209.5km have been rehabilitated or upgraded to bitumen standard.
A total of 54 roads with a total length 60.12km have been graded and graveled, and drainages along them constructed.