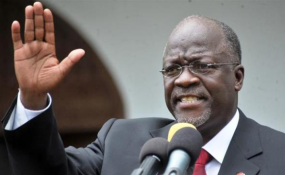 Photo: Daily News
Dar es Salaam — President John Magufuli has asked Israel to open its embassy in Dar es Salaam.
Currently Israel embassy, which is located in Nairobi serves Dar es Salaa.
The president made the call, when he met with Israel Defense Minister Avigdor Lieberman at the State House on Thursday, March 22.
During their conversation President Magufuli sent his invitation to Israel Prime Minister Mr Benjamin Netanyahu.
He also insisted on the need for the two countries to foster their bilateral relations in defense, security, economic sectors.
"Tanzania and Israel has a long time bilateral relations and I want to invite investors from Israel to invest in various sectors in the country," the President said.
On his part Mr Lieberman reassured the President that Israel will continue to foster its bilateral ties with Tanzania.
The meeting was also attended by Minister for Tanzania People's Defense Force and National Services Dr Hussein Mwinyi, Israel ambassador to Tanzania Mr Noah Gal Gendled as well as other top officials from TPDF and the police.