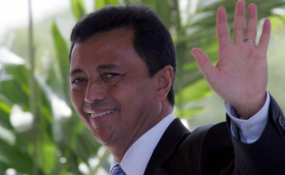 Photo: l'express.mu
By Rivonala Razafison
AAA Company, an agribusiness owned by former Madagascar president Marc Ravalomanana, has closed down.
The director-general Lanto Rabenantoandro announced Thursday that the decision was reached after the company and government failed to reach an agreement to allow operations to resume.
About 700 workers have been sent home.
"Resumption of the work will depend upon the eventual decision-making by the government," AAA's spokesperson, Norosoa Harimalala, said.
A Madagascar court ordered the closure of the company last October over violation of certain standards.
"They asked us to comply with the law," Ms Harimalala said, adding that they have furnished the government with the required documents but are yet to get a response.
In February, the farm's gates were sealed and workers prohibited from entering to feed livestock.
It is reported that two cows died.
US envoy summoned
The US embassy in Antananarivo, on March 9, voiced concern on its Facebook page and appealed for a solution to end the "misery and unjustified harm" to the cattle.
A few days later, the US ambassador Robert Yamate was summoned by the Malagasy government to explain himself.
"We are a sovereign country, it is inadmissible for a representative of a large country to challenge a Madagascar court. After an explanation, he (Mr Yamate) apologised," the Foreign Affairs Minister Henry Rabary-Njaka said.
In a new Facebook post thereafter, the US embassy said it welcomed the decision "to authorise the feeding and care of AAA Company's cattle."
The farm is located in Andranomanelatra Antsirabe, about 170km south of the capital Antananarivo.
Its owner, Mr Ravalomanana, was ousted in a 2009 coup in which more than 100 people died.
He is one of the possible contenders in the elections due at the end of the year along with his arch-rival Andry Rajoelina, who ousted him.
The two will face President Hery Rajaonarimampianina, an ally of Mr Rajoelina.
"AAA Company's problem is meant to economically weaken Ravalomanana," opined Ms Hanitra Razafimanantsoa, an MP.