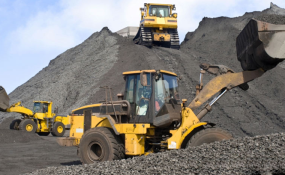 Photo: Africa Finance Corporation
By From Sylivester Domasa in Bahi
THE Ministry of Minerals says at least 700 small-scale mining blocks are lying idle after owners holding primary mining licences failed to collect their document from the office of the mineral officer in Dodoma.
Authorities accused licence holders, majority of whom are foreigners, of denying locals the opportunity to invest in mineral business and subsequently loss of revenue to the government.
The deputy minister in charge of minerals, Mr Dotto Biteko told a group of artisanal miners at the Nholi gold mine "the licences were in custody of people who do not live in Dodoma." A statement from the office of the regional mineral officer shows that the region is home to 2,467 primary licence holders, 700 of whom had not been paid for or collected them.
Further details indicate that some of the licences were running out of date and that many had since expired. Dodoma region mineral officer Silimu Mtingile told the deputy minister for minerals that his office was now taking measures, including cancelling some 413 licences and over 300 'mistaken certificates.
' Mr Mtingile says that by February 2018, the office had received 1,149 applications and had worked on at least 1,000 documents. "The office awaits payment so that the applicants can be issued with their licences," he said.
But speaking at a public meeting with artisanal miners, Mr Biteko said all mining operators must be licensed to ensure the minerals benefits the community as well as the country.
He warned the artisanal miners conniving with foreigners to secretly smuggle minerals, saying the government was monitoring their activities, and that anyone arrested would be dealt with severely.
Kulwa Limbu, Nholi gold mine manager, says there were at least 100 licensed artisanal miners at the area, and since its inception last year, the mine had contributed over 250m/- in taxes and duties. Mr Limbu lauded President John Magufuli's commitment to supporting small-scale miners by addressing challenges facing the group, affirming artisanals' readiness to support the initiative by paying all needed taxes.
However the leader asked the government to help address the emerging challenges including roads, police station and electricity to help improve their productivity. Mr Biteko directed the office of the mineral officer to conduct regular public education campaign especially on the new mining policy, law and regulatory framework.