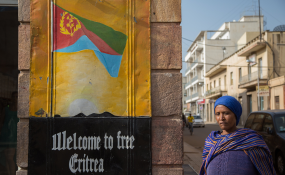 Photo: Le Temps
opinion
By Zeray Hailemariam
It is indisputable that the falling rogue Eritrean regime remained the sources of all political instability in the horn of Africa in general and in Ethiopia in particular.
It is hard fact that the mafia-styled Eritrea's leadership have designed strategies to wage proxy war against Ethiopia after its shameful project to invade and kneel down the horn of Africa by directly invading Ethiopia in 1998.
Having well understood that they cannot confront Ethiopia directly, they opted for conducting proxy war through stateless Somalia by training, financing and providing latest weapons to Al-Qaida linked the then union Islamic Courts in Somalia.
During the serious war with the Islamic Courts who declared Jihad war against Ethiopia, colonels, journalists and other military advisors were nakedly taken prisoners by the gallant Ethiopian forces. This was a self-evident truth that the Islamist were being supported directly from Asmara in finance, military and other means to sabotage Ethiopia.
However, after the Islamists were broken down and devastated by the Ethiopian side, Isayas was struggling to find other means to continue its terrorism acts and keep Somalia stateless to use it as its base to its destructive missions.
With the support of Eritrean regime, the terrorists group, Alshebab, flourished and emerged victorious from the dust of UIC disintegration. Evidences coming out from Eritrea's intelligence officers who escaped from its oppressive regime disclosed that most Islamist of Somalia were trained, armed and financed in Eritrean military trainers by direct order of Isayas Afworqi.
Moreover, the United Nations Security Council has imposed sanctions twice for its belligerence and destabilizing role in the region. Eritrean leaders were accused by the international community for giving whatever possible support for the terrorists in Somalia to destabilize Somalia and the whole region.
Nevertheless, the regime in Asmara mocked the UNSC and other western powers for labeling the Islamist as terrorists and recognized them as freedom fighters fighting against the imposing imperialism.
Hence, there is no evidence that shows that it has refrained from supporting the terrorists in Somalia. Of course, plenty of information shows that it is continuing doing so. The crimes committed against the people of Eritrea who refused to the unconstitutional regime of Isayas are something similar to genocide, an act against humanity.
The United Nations Human Rights Commission has disclosed the naked crimes being committed against humanity inside Eritrea and labeled it as systematic action against humanity which is similar to other genocidal acts of the world. As a result of the arbitrary action of the regime, Eritrea has produced more than 25 percent of its population as refugees only second to war torn Syria in the world. Of course the tragedy for Eritrean is that half of them remain drowned or killed by kidnappers before reaching Europe. Some are to be gunned down in the border by its security officers to apply the shoot and kill open policy for any Eritrean suspected fleeing.
There is no constitution, no court, and no parliament nothing in Eritrea which altered the state to another Africa's South Korea. It rather become a living hell of the 21th century. The violent foreign policy Isayas has been pursuing fastened the situation that Eritrea is singled out or completely isolated country from the world. As a result, there is no investment, trade, tourism or any developmental aspect in Eritrea.
The serious political, social and economic crisis happened in Eritrea as results of the madness of the leaders are something leading it to fall like previous Somalia in the near future. Thus, the horn of Africa is about to face another failed state where terrorists from all parts of the world can get save heavens.
To cover all the shameful incidents inside Eritrea from the international community, Isayas is now playing the dirty game to dismantle the peace and stability of the other neighboring countries. This tactics can and has helped him for long to divert the home politics to externalize its own weakness.
The hateful propaganda he was spreading among Ethiopians has begun ripping now. Side by side, he has from day one collected all lawless Ethiopian groups and was training them to wage whatsoever war with Ethiopia. His tactics was to stir ethnic based conflict among Ethiopians. For example, he trained and sheltered terrorists like Gnbot 7, Ethiopian patriots, Demhit, OLF, ONLF and others that have attempted terrorism in Ethiopia. Thanks to our security, the ugly missions have been failed to take place. What was the worst was that its attempt to throw bombs to African leaders gathered in the African Union hall based in Ethiopia. Ethiopia has been taking defensive measures so far which were successful.
Now, the Eritrean regimes has somewhat changed its tactics.
That it has assigned so many of its cadres as trained face bookers to spite hateful speech aiming to create mistrust and hatred among the various nations and nationalities of Ethiopia.
These bookers daily insult Amhara, Oromo pretending that they are Tigrians. The Eritrean regime cadres are also busy in releasing video insulting Tigreans pretending that they are from Amhara and Oromia regions as well. Some innocent fellows assume that their brothers are insulting them.
The tactics is to spread and create Rwanda styled genocide.
The outlawed groups sponsored by Eritrea are also observed accomplishing Isayas's mission through social Media.
These strategies are as per the policies of Isayas to destabilize Ethiopia and beyond. The protests happening in Amhara regional state seemed well designed by Ginbot 7, the mercenary of Eritrea to engulf Ethiopia by deadly civil war. The cadres of OLF, ONLF, Ginbot 7 together with deliberately trained Eritrean regime cadres have begun massively attacking Tigreans alone to give the impression that the Tigreans are hated ethnic groups by the rest Ethiopians.
All Ethiopians must be well aware of the new tactic being applied by Eritrea to destabilize our country. We must together defend our Ethiopia and let us expose the hidden tactics of Eritrea and its messengers.