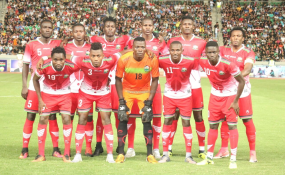 Photo: Capital FM
By David Kwalimwa
Marrakech — Ten-man Kenya on Tuesday struggled against a physically-imposing Central Africa Republic side in an international friendly at the Stade de Marrakech to lose 3-2.
Eric Johanna and Michael Olunga scored Kenya's goals in a contest that turned on its head in the second half, as Spain- based midfielder Ismail Gonzalez was sent off, reportedly for something he said to the referee.
Substitute Sammy Onyango also hit the post with a fierce drive late on, and wasted another glorious opportunity from ten yards, as Kenya, who were playing without the services of captain Victor Wanyama, ended up second best.
"We have to improve on very many things before we face Ghana in September. It wasn't a good game and a lot went against us," Stars assistant coach Frank Ouna explained after the game.
The Wild beasts scored first on eleven minutes, and it was a beauty of a goal.
Mafouta Louis dazzled his way past makeshift right back Ismail Gonzalez and managed to deliver a left-footed cross into the box.
The resultant ball looped over Kenya's central defensive pairing consisting David Ochieng and David Owino towards Foxi Kethevomaren, who connected with a fierce low drive that easily beat keeper Patrick Matasi.
This setback rejuvenated Harambee Stars, who fought back and restored parity three minutes later.
Anchorman Anthony Akumu, who was standing in for the absent Victor Wanyama in midfield, sprayed a pass into acres of space which birthday boy Michael Olunga raced to meet.
The Girona forward thereafter easily sprinted past his marker and delivered a low ball, which flew past the rushing Ayub Timbe, but thankfully landed at the feet of Eric Johanna.
The Sweden-based midfielder then controlled the ball, looked up to pick his spot, and then swept a fierce shot into the top right corner of Lembet Geoffrey's goal.
The Central Africans gained the ascendancy thereafter, with Ochieng and Owino taking turns to clear the ball off the line in succession late in the opening half.
But CAR again went 2-1 up 20 minutes after the break.
Dagoulou Eudes was fed by an excellent cross in the box after Duncan Otieno had for the umpteenth time been left for the dead on the wing.
The burly forward then gleefully nodded home the ball in the box to hand his side the advantage.
Stars coach Stanley Okumbi retaliated by bringing on Clifton Miheso and Sammy Onyango but still CAR extended their advantage via a Momi Hilaire penalty.
Stars who drew with Comoros in another friendly at the same venue on Saturday, are expected back home on Thursday morning.