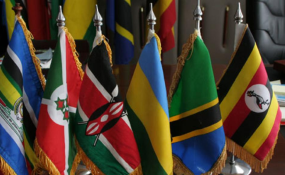 Photo: Daily News
By From Hazla Omar
Arusha — SOUTH-Sudan has finally been allowed to join the East African Employers Organisation (EAEO) after waiting in the wings to get in for years.
The Secretary General for EAEO Dr Aggrey Mlimuka explained here that, Juba had for many years asked to join the Regional Employers' Organisation; "But they did not qualify to come aboard because the country was yet to join the East African Community," he said, adding that now the South Sudan has become the 6th member of the EAC it will officially enter the EAEO fold in June.
Speaking during the 4th EAEO Annual General Meeting held here, Dr Mlimuka said the East African Employers' Organization will meet again next June to officially initiate South Sudan employers into the regional organization which so far has members from Kenya, Rwanda, Uganda, Tanzania and Burundi.
In addition to that, the EAEO wants the EAC Secretary General Association, Mr Liberat Mfumukeko, to push the six governments of the member states in fast tracking free movement of workers, capital persons and labour, in order to ensure proper integration, through scrapping or reducing workers and residential permits fees.
Tanzania has however reduced the permit fees from 2000 US dollar to 1000 US dollar cutting off 50 percent of the cost. Uganda, Kenya and Rwanda have totally scrapped working permits requirements, Burundi is still on process.
The chairperson of the East African Employers Organization (EAEO), Ms Rosemary Ssenabulya who is also the Executive Director of Uganda Employers Association said while they were striving to remove barriers, citizens must also upgrade their skills in order to become employable. Free movement of people, capital and labour were among the things stipulated in the East African Common Market Protocol which sailed in July 2010.
However the EAC secretariat in Arusha said free movement of people will only be viable once each member state issued machine-readable Identity Cards. "We are however happy that, countries like Kenya, Rwanda and Uganda have waivered work permit fees in their respective borders, which by itself is great achievement of the East African Community," said Mr Nicholas Okwir the chairperson of General Assembly of EAEO adding that even Tanzania's efforts to cutting down the costs of such documents was commendable.
The regional employers' organization also took time to appreciate efforts of the five Presidents from Tanzania, Kenya, Uganda, Rwanda and Burundi for launching the new digital, East African Passport of international.