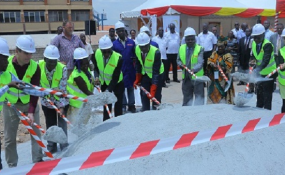 Photo: The Independent
By Isaac Khisa
Kampala — The Insurance Regulatory Authority of Uganda (IRA-U) has started the construction of a Shs 28.4billion tower office and commercial block in Kampala.
The 16,500 square meter project known as Insurance Towers with 11 floors and two basements, is situated along Lumumba Avenue near the Rwenzori Courts.
The project, whose ground breaking was held on March 14, undertaken by Roko Construction Company, is to be completed in September 2019.
Ibrahim Kaddunabbi Lubega, the CEO at IRA-U, said the objective of setting up the facility is to comply with the International Supervisors standards - specifically the Insurance Core Principle No.2.
The Principle states that the supervisor, in the exercise of its function and powers, should be operationally independent, accountable, transparent and with adequate resources.
"We believe that on completion of this facility, the Authority shall be financed in a manner that does not undermine its independence and the resources generated shall be sufficient to enable us conduct effective supervision," he said.
He said the facility shall also act as an insurance focal point for discussion, dissemination of insurance ideas, information, address the needs and requirements of the public as well as reflect the corporate image of the Authority.
Currently, the Authority is accommodated on Legacy Towers on Kyadondo Road in Kampala occupying 487 square metres with a monthly rent bill of US$10,227 per month.
IRA-U Board Chairperson, Isaac Nkote, said the project will build confidence and trust in the insuring public as well act as a convergence point for government, the public and the private sector in all insurance-related aspirations.
Henry Musasizi, the chairperson, Finance, Planning and Economic Development, representing Finance Minister, Matia Kasaija, said the construction of the Authority's home is a demonstration of government's commitment to ensuring financial independence of its agencies.