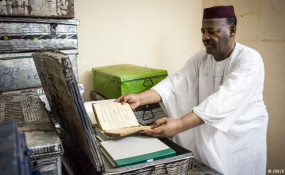 Photo: P.Breu/ DW
A Malian jihadi has been sent to The Hague to face war crimes charges related to the destruction of Timbuktu and sex slavery. He is the second man to be tried for the crime and prosecutors hope to send a message.
The International Criminal Court has detained a Malian jihadi on charges of sex slavery and destruction of Timbuktu's UNESCO World Heritage site.
Al Hassan Ag Abdoul Aziz Ag Mohamed Ag Mahmoud, 40, was allegedly the de facto chief of Islamic police in Timbuktu from 2012 to 2013. He is accused of destroying cultural monuments and enforcing policies that led to sexual enslavement of women and girls.
On Saturday, the court in The Hague alleged that Hassan "participated in the policy of forced marriages which victimized the female inhabitants of Timbuktu and led to repeated rapes and the sexual enslavement of women and girls."
His detention "sends a strong message to all those, wherever they are, who commit crimes which shock the conscience of humanity that my office remains steadfast in the pursuit of its mandate," chief prosecutor Fatou Bensouda said.
Second case
Al Hassan is the second person to be arrested for the destruction of a series of ancient mausoleums for supposed idolatry as part of an Islamist takeover of the city.
The other man, Ahmad Al Faqi Al Mahdi, was sentenced in 2017 to nine years imprisonment for his participation in the destruction. The landmark case was criticized for failing to encompass other crimes.
However, prosecutors in the new case have enough evidence to issue an arrest warrant for crimes against humanity including "torture, rape and sexual slavery; persecution of the inhabitants of Timbuktu on religious and gender grounds; and other inhumane acts."
Al Hassan was allegedly a member of the al-Qaida linked Ansar Dine group.
Center of Islamic learning
The city of Timbuktu, in Mali's north, was founded between the fifth and 12th centuries by Tuareg tribes. It has been called "the city of 333 saints" for the number of Muslim sages buried there.
The city was revered as a center of Islamic learning during its golden age in the 15th and 16th centuries.
Several jihadi insurgent groups swept across Mali's remote north in early 2012. Over three days, rebels overran northern Mali's three largest cities.
French-backed Malian troops seized Timbuktu in January 2013, but fleeing rebels burnt down the Ahmed Baba Institute, destroying ancient manuscripts.
aw/cmk (AFP, Reuters)