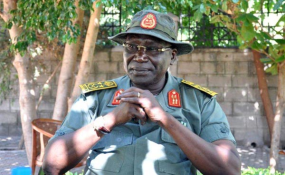 Photo: Peter Mwayi/Daily Monitor
Khartoum — The Minister of Defence, Lt. Gen. Awad Mohamed Ahmed bin Oaf, received in his office Sunday members of the joint security committee of Sudan and South Sudan which held on Saturday and Sunday a regular meeting in Khartoum, co-headed chairmen of the intelligence.
The Minister of Defence has appreciated the remarkable progress achieved by the joint security committee of Sudan and South Sudan at the levels of the secure and demilitarized zone and demarcation along the zero line prior to commencing the first stage in re-opening of the crossings between the two countries.
The meeting has discussed the level of commitment of the two parties to implementation the decisions issued by the joint political and security mechanism of Sudan and south Sudan, besides the decision issued by the recent committee's meeting.
Meanwhile, the head of South Sudan delegation, Shek Raj, has affirmed the keenness of his state to solve all the problems facing the committee's work and to cooperate constructively for building mutual confidence and establishing partnerships for the interest of the two countries.