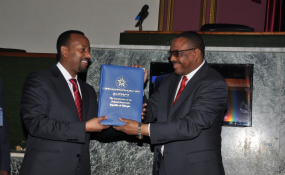 Photo: Etiopia Herald
By Zelalem Girma
Recently, the Ethiopian Peoples' Revolutionary Democratic Front (EPRDF) has selected Dr. Abiy Ahmed as its Chairperson and the Prime Minister of the country following the resignation of Hailemariam Desalegn from his party and government positions. Yesterday at the House of Peoples' Representative, the outgoing Prime Minister Hailemariam Desalegn handed over the country's flag and constitution to Dr. Abiy.
The new Prime Minister Dr. Abiy affirmed that his government's commitment for the participation of citizens in the country's democratization process and to play their part in the country's development journey.
Dr. Abiy was born in Beshasha town in Gomma woreda, near Agaro town, Jimma Zone, Oromia State, on August 15, 1976 from his father Ahmed Ali and his mother Tezeta Wolde. Abiy is married and met his wife, Zinash Tayachew, while both were serving in the Ethiopian Defense Forces. They have three daughters together. Abiy is a multilingual and speaks Afaan Oromo, Amharic, Tigrigna and English.
According to sources, he grew up in a multilingual family with Muslim and Christian parents. His childhood name was Abiyot, meaning Revolution, a name that was sometimes given to children in the aftermath of the Derg seizure of power in 1974. The then Abiyot went to the local primary school and later continued his studies at secondary schools in Agaro town.
Dr. Abiy served in the Ethiopian National Defense Force after he had received his first degree, a Bachelor's degree in Computer Engineering from the Microlink Information Technology College in Addis Ababa in 2001. In 2005, Abiy earned a post-graduate certificate in Cryptography at Machihe Dynamics in Pretoria, Republic of South.
Abiy holds a Master of Arts in Transformational Leadership and Change with Merit, earned from the Business School at Greenwich University, London, in collaboration with the International Leadership Institute, Addis Ababa, in 2011. He also holds a Master of Business Administration from the Leadstar College of Management and Leadership in Addis Ababa in partnership with Ashland University in 2013.
Abiy completed his Ph.D. in 2017 at the Institute for Peace and Security Studies, Addis Ababa University. He did his thesis entitled "Social Capital and its Role in Traditional Conflict Resolution in Ethiopia: The Case of Inter-Religious Conflict in Jimma Zone State". As a follow-up to his Ph.D. thesis, he published a research article on de-escalation strategies in the Horn of Africa Bulletin in a special journal issue dedicated to countering violent extremism.
Following his election as a party chairman, various segments of the society has still been forwarding more constructive comments about Dr. Abiy achievements and future possible victories in the development of the country.
Corporate Communications Director at Ethiopian Water Technologies Institute Wasihun Alemayehu was previously working at the Ministry of Science and Technology which was administered by the leadership of Dr. Abiy Ahmed. He says that Dr. Abiy is exemplary for taking government responsibilities and commitments. He respects every employee without creating discrimination among them.
"Abiy was fully responsible to achieve the Ministry's goals and missions successfully. He was also very democratic in his leadership regarding accepting suggestions and opinions. He would not like to impose ideas on peoples forcefully. He was rather lead discussions freely," he added.
Dr. Abiy, according to him, was always very interested in his own education and later in his life also encouraged others to learn and to improve. Wasihun also confirms, "Dr. Abiy has strong will to learn and develop himself and to support others to do so. Due to his successful political and military careers as well as his multidimensional talents in various fields, he will be an effective leader of the country, particularly in ensuring peace and security, with the help of the whole people as the outcome is for all."
Abiy's election to the position of the prime minister would open up opportunities for these reforms to be implemented at the broadest level throughout the country. In this regard, various people has given him comments through twitter and other social media.
Ebisa Merga, a resident in Addis, says that congratulations for Dr.Abiy Ahmed Ali for the chance to lead Ethiopia as a Prime Minister and serve his people. Ebisa commented that Dr. Abiy should properly use his authority, particularly in addressing public demands and fulfilling their needs.
Dr. Abiy could surely return the mind of the violent forces into peace. Recently, one of the prominent activist residing abroad forwarded congratulatory message through twitter to Dr Abiy Ahmed. This can be considered as optimistic move for EPRDF leadership to convince opponents in peace. He has come to power at the most critical time in the country's history to save the country from the recent perilous crisis.
Dr. Senait Fisseha, Professor of OBGYN, also extended congratulations to Dr. Abiy Ahmed for being appointed the new prime minster of Ethiopia. She says Ethiopians both at home and abroad are welcoming your election with a new sense of optimism & hope.
Amin Said also tweeted congratulations to all Ethiopians citizens for the selection of new prime minister in a democratic way. As change doesn't come over night, the people must support our new prime minister to sustain unity and tolerance among ourselves.
To conclude this article, this writer quotes from Claude Ake, Journal of Democracy, that says: "Like development, democratization is not something that one people does for another. People must do it for themselves or it does not happen."
Similarly, Robert Putnam, the author of Making Democracy Work, also says that at birth of new polities, leaders mold institutions, whereas afterwards institutions mold leaders. The Cameroon proverb that says "The goat eats where it is tethered," indicates the cross-fertilization of leadership and democratic experiments around the world.
In sum, efforts to install democracy in Ethiopia are powerfully shaped by the country's recent political and institutional legacies. Hailemariam Desalegn makes history in Ethiopia as he delivers power in his will to be part of the solution to the problems that were happened since a few years ago. Thus, democracy and development can be considered as inseparable in the overall development of any country. Hence, more democratic and transparent leadership is expected from the new prime minister in the years ahead.