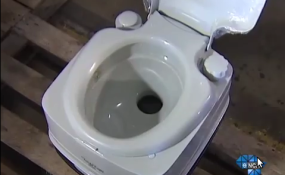 Photo: enews channel
By Syriacus Buguzi
Dodoma — The government needs over Sh646billion to build 276,198 toilets in primary and secondary schools in order to improve sanitation, the Parliament heard on Wednesday April 4th.
The Deputy Minister of State in the Prime Minister's office, Local Government and Regional Administration, Mr Joseph Kakunda said the government has directed all municipalities to use a greater percentage of development funds, over Sh55billion, to build school infrastructure, including toilets.
He was responding to a question raised in parliament by Special Seats MP Ester Mahame who sought to know why the shortage of school toilets has gone unresolved for so long. She asked why the government has not yet come up with alternative measures to solve the problem.
According to the deputy minister, said until the 2017/18 the government had built 6,708 toilets in primary schools and 2,071 in secondary schools.