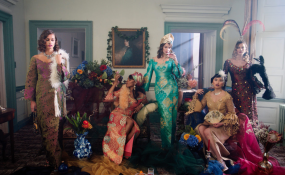 Photo: The Guardian
By Njideka Agbo
Deola Sagoe recently unveiled her collection Komole: Nigeria's Regal Gift To The World. The advertorial features four models from different races.
Despite the Yoruba song playing in the background, this ad has come under serious critisicim as Nigerians have alleged it pays little or no attention to the Nigerian women who patronize her. Some have said that no white woman would want to be seen tying the gele unless it is a Nigerian wedding.
Read Nigerians reactions below:
Liked that new Deola Sagoe ad before watching the video. When I was done watching I immediately unliked it. What exactly is the point of using only white (and one mixed but extremely light) models to market traditional Nigerian wedding dresses? Smh
-- Max (@maki_ogunbor) April 4, 2018
I get what (marketing angle) Deola Sagoe may be pushing with her ad. But using primarily white women wearing the 'Komole' design to promote it is kinda sour.
Western designers for a long time never used black models to make their designs appeal to us.
We wore them anyway. So💁🏾
-- Tifé! (@Ifetoluwaa) April 4, 2018
3 This is admittedly a bold statement: Deola Sagoe does NOT need to advertise the Komole to Nigerian women, especially upper class women, who are her clients. It is literally a waste of money. Why? Because Nigerian women, even the ones that cannot afford it, know about the Komole
-- M. (@Monaayy) April 4, 2018
deola sagoe is fucking weird. how do you showcase an african collection with barely any africans in it?? instead of using africans with different skin tones you went to get oyinbo & chinko? mad.
-- bensonedokpayi🐝 (@bensonedo_) April 4, 2018
Just saw the Deola Sagoe ad people are enraged about because she used predominantly white models for her Komole Kandid iro and buba. At first I was somewhat enraged too because I felt I had seen more Nigerian Women look more stunning in her designs among other reasons.
-- Moji Delano (@MojiDelanoBlog) April 5, 2018
On the other hand, some have said that they do not see anything wrong with the advert:
I love how deola sagoe used different races in her new ad ... we are growing! All the racist bunch are only seeing the white woman and ignoring the obvious black,Hispanic and Asian woman. Lets grow up. You and kkk Wats the diff ?
-- Samantha walsh. (@nonelawalsh) April 5, 2018
I've seen the Deola Sagoe ad.
so you guys have been crying because she's expanded her target market and you're scared your culture will be stolen/appropriated??
bad news niggas, that ship done sailed.
leave the woman be!
-- kim 2.0 (@kimical_X) April 5, 2018
You don't have Deola Sagoe money. You're not her target market, stop crying.
-- chy exotic! make your life come alive (@colovrmenude) April 4, 2018
Unpopular opinion, there is nothing wrong with the intention behind Deola Sagoe's advert. Why do we get upset when 'our' brands try to cross over to other markets? This is about economics, not feelings.
-- Damilola Oyedele (@DamiOyedele) April 4, 2018
Lol. Deola Sagoe is trying to sell Aso-oke on an international level seeing as she's basically conquered on a local level but you guys are angry about it? Same Nigerians that wear "white people's" wedding gowns are angry that she dressed white people in Nigerian attire ? Mad.
-- Ifeoma Billion Nwobu (@Ifeoma_Nwobu) April 5, 2018