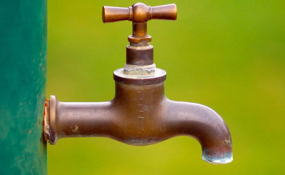 Photo: Capital FM
By Elisha Otieno
Migori residents have been forced to go without clean water for the last five months.
This is after the main water service providing firm, the Migori Water and Sanitation Company (Miwasco) failed to pay electricity bills amounting to Sh5 million to Kenya Power and Lighting Company.
The water firm requires electricity to pump water from its main station in Oyani.
On Sunday, Miwasco Managing Director Peter Pesa told the Nation he was still looking for money to sort out the problem.
"We are still hopeful that we will be bailed out by the county administration," he said.
RAIN WATER
Water scarcity bites counties as dry spell persists
A spot-check by the Nation showed the residents have now been relying on rain water and water from streams and rivers. But the problem goes beyond power bills.
Employees of the firm have not been paid their salaries for the last three months. Some of the employees told the Nation they were demoralised and were considering quitting for 'greener pastures'.
Residents called on Governor Okoth Obado to intervene. Although Miwasco is supposed be independent, it still depends on the county government to pay its electricity bills.
The water firm claimed that the money they raise from payment of consumer bills was inadequate to meet its operational costs.
The residents fear there could be an outbreak of water borne diseases.
CHOLERA
"Cholera outbreak is looming because we are now fetching water from the polluted water sources...the situation is very bad," said Mrs Jacinta Akello, a resident of Migori town.
Hospitals, hotels and schools are the worst affected, with some of the institutions contemplating shutting down should the water shortage persist.
In the meantime, schools have been sending students to fetch water from local streams and rivers.
Senior county government official accuse the water firm of having 'accountability issues' , hence the delay in paying the electricity bill.
PAST INCOME
"We know the situation is dire but Miwasco is not open about their books of accounts. We will only pay the (electricity) bills after we are properly briefed and convinced about expenditures of their past income," said a senior officer.
The management of a private water service provider in Migori Town - Nyasare Water Company- recently started rationing the commodity, citing low water levels in their boreholes and springs.
"Our clients will not get daily supplies until we get enough rains. We will be serving different estates on different days," said Mr Benson Omollo Awange, the water company chairman.
He decried vandalism of their pipes by residents, a move he said, had pushed up their cost of maintenance.