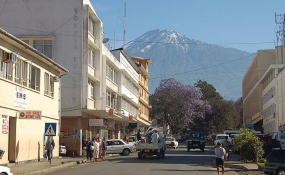 Photo: Wikimedia
Arusha — PRESIDENT John Magufuli winded up his three-day tour of Arusha and Manyara regions yesterday, asking authorities and residents to ensure the precinct's image remains in pristine condition.
"Arusha is bouncing back to its exemplary urban centre that it used to be; this is a tourist destination, centre for diplomatic relations and conferences...it is an important Tanzanian city whose image must not be tarnished at any excuse," said President Magufuli.
He expressed satisfaction over the city's infrastructure development, saying the roads were in good condition and the government was further striving to build more roads and providing other social services, citing the ambitious water project currently under implementation.
Arusha, which became a town council in 1948 and municipality in 1980 before being upgraded into the city status in 2012, has over 500,000 residents.
Regional Commissioner Mrisho Gambo thanked the Head of State for the 750m/- to the ambitious water project in Karatu District, saying another ring road project around Arusha City was underway. In line with the current industrialisation drive, Mr
Gambo said Arusha has so far built 45 large, middle and small scale factories and the region was demarcating special land and plots for investors seeking to establish productive industries in the region.
The Member of Parliament for Longido, Mr Steven Kiluswa appreciated the 16bn/- Longido Water Project under execution by the Arusha Urban Water Supply Authority (AUWSA). Upon completion next July, the project stands to benefit nearly 17,000 residents. But, all is not well.
Special Seats Member of Parliament Catherine Magige said former employees of formerly state-owned Hotel Seventy-Seven who were laid off in the late 90s when the property was sold off to private investors have not received their arrears. Hotel Seventy-Seven was demolished to pave way for the construction of the soon to be opened Hyatt Regency Arusha Resort.
Meanwhile, President Magufuli yesterday graced the special mass to consecrate Archbishop Isaac Massawe as the fourth Head the Catholic Archdiocese here, taking over the reins from the retired Archbishop Josaphat Louis Lebulu.
The Mass was held at the Saint Therese Catholic Cathedral at the bank of River Naura in the City.