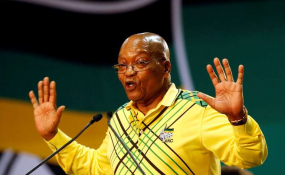 Photo: Le Pays
opinion
The appearance of former president Jacob Zuma in court has been used by Zuma to suggest that his trial is a form of persecution, based on his championing the cause of the poor and black people. Those who have rallied in support of Zuma may also mobilise to remove Cyril Ramaphosa as president. By RAYMOND SUTTNER.
First published on polity.org.za
In the last few weeks before and during the court appearance of Jacob Zuma in Durban last week there have been repeated references by Zuma to himself as being persecuted and betrayed by those he trusted. What had he done, he asked; no one has told him what he had done? One may, initially, have simply dismissed this as typical of the narcissism of Zuma, that he is not able to distinguish between a real attack on his well-being that constitutes victimisation and being held to account for alleged criminality.
Zuma has demonstrated over the years of his presidency that no spoils have been sufficient to satisfy his appetite and to acquire, by whatever means. Thus, the interests of the ANC and of the country at large have counted little next to amassing wealth for himself. He has been disinterested...