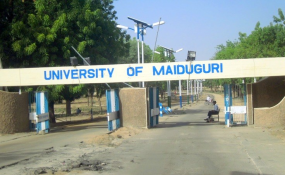 Photo: Premium Times
By Ahmed Obafemi
Maiduguri — A suicide bomber has been killed by her own explosives during a failed attempt to carry out an attack at a university northeast of the country.
Another suspect has been killed as troops pursued fleeing militants.
The attackers, thought to belong to the Boko Haram sect, planned a suicide attack at the University of Maiduguri in the Borno State.
Members of the Nigerian Air Force (NAF), in conjunction with some Nigerian Army (NA) troops, foiled the attack by the suspects.
The vest on one of the suicide bombers detonated before they could gain access into the hostel, according to army officials.
Air Vice Marshal Olatokunbo Adesanya, the NAF Director of Public Relations and Information, said despite the exchange of gunfire, there was no reported fatality except for the suicide bomber, whose counterparts immediately fled.
An additional suicide bomber has been killed after a military helicopter trailed the militants.
Adesanya said troops were pursuing the fleeing terrorists.
"Members of the populace, especially around the University premises are, therefore, requested to be very vigilant," he said.
Meanwhile, troops have arrested a suspected informer of the Boko Haram in Taraba State, also in the northeast.
"The suspect is presently in the army's custody undergoing interrogation," said army spokesperson, Brigadier General Texas Chukwu.
The Boko Haram is perpetrating terror to establish an Islamic state in Africa's most populous country of over 190 million people.