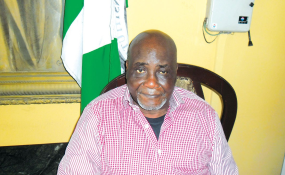 Photo: This Day
By Iyobosa Uwugiaren
Abuja — The Niger Deltans for Accountability and Good Governance (NDAGG) has said it has discovered secret plan by persons it described as "unscrupulous contractors and enemies of the Niger Delta" to distract and possibly distract the newly appointed Presidential Adviser (Amnesty Programme), Professor Charles Dokubo, saying it would do all that was legal and within its powers to thwart this plot.
In a statement to the journalists yesterday in Abuja after a meeting with Dokubo, the spokesperson for the advocacy group, Claudius Egba, dismissed a recent publication by another group, Trained Agitators Forum, alleging that the new presidential adviser was allowing a relative of his to wield powers at the Amnesty Office as false and misleading.
According to the statement, "First, we must clarify that there is no such group as Trained Agitators Forum. It is just a creation of some disgruntled contractors and enemies of the Niger Delta, who are not happy at the decision of the new coordinator to review the huge and un-performing contracts awarded by his predecessor, Brig-Gen Paul Boroh (rtd).
"They want business as usual but the new coordinator assured us that he will never allow that and we believe him and totally support his decision to carry out a holistic review of the huge contracts awarded by his predecessor."
The NDAGG spokesman also refuted reports that renowned actress and movie producer, Ms. Hilda Dokubo, was "running the activities" of the Amnesty Office.
"We have just met with Charles Dokubo, the new Coordinator of the Amnesty Programme; he assured us that he has not made any appointments since he assumed office. He has been working with the personnel he met on ground. We in fact totally frown against that because we are aware that a number of the management staff that worked with his predecessor, Boroh, did not live up to expectations," the group, which met with Prof. Dokubo in Abuja yesterday further stated.
"Some of them were even known to be very corrupt. We advised him to clean up the place even if it means doing away with most of the personnel in that office; secondly, the new coordinator is lucky to have someone like Hilda Dokubo, who has since inception of the Amnesty Programme in 2010, has been involved in one way or the other with the Amnesty Office, offer him tips on how to succeed on the job.
"Though they share the same surname, Hilda and Professor Dokubo are not related at all. They are just maligning Hilda Dokubo in their bid to distract and possibly smear the new coordinator.
"We have our eyes on the Amnesty Office, our group was at the forefront of efforts to oust the very corrupt and inept era of Brig-Gen Boroh and we can confirm to you all that the new coordinator has thus far shown that he his focused, disciplined and able to do the job that has been entrusted to him."
The NDAGG spokesman urged Nigerians to disregard what he called "false and politically motivated information being peddled about the new Coordinator of the Amnesty Programme by some panicky contractors."
Egba revealed that following the appointment of Professor Dokubo as the Coordinator of the Presidential Amnesty Programme, many of the contractors at the Amnesty Office panicked because of his pedigree as an incorruptible scholar.
He added: "These contractors are very used to persons they can control and easily corrupt. But the professor's pedigree as an incorruptible scholar is giving them nightmares. They are now going about saying all sorts of negative things simply because the new coordinator is not willing to pander to their usually corrupt dictates. They have to get use to the new order, a new Sheriff is in town."
The NDAGG, Egba said, had concluded plans to compile, name and shame the persons plotting to sabotage the new coordinator of the Presidential Amnesty Programme, adding "We know all of them and we are not afraid to call them by their names. We are watching very closely, if they continue with their plot to defocus this new coordinator, we would be left with no other option but to name and shame them.'
"They are all contractors who want the rotten era at the Amnesty Office to continue. We will expose all of them and show Nigerians the relevant documents about their contracts if they do not stop forthwith from distracting Professor Dokubo."