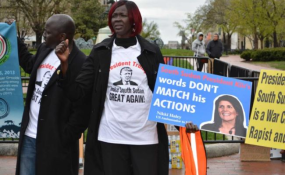 Photo: Ayen Bior/VOA
Khartoum — The Vice-President of Kenya, William Ruto has reaffirmed importance of the region countries concerted efforts to push peace processes in Somalia and State of South Sudan.
In a joint press conference with the First Vice-President of the Republic in the Republican Palace at the end of the Sudanese-Kenyan talks , Wednesday, the Kenyan Vice-President said Sudan and Kenya would work together within IGAD for finding solutions to humanitarian situation in South Sudan, which draws worrisome. referring to importance of supporting IGAD resolutions in this connection.
He stated the bilateral work with COMESA with widen scope of trade cooperation between the two countries.
The Kenyan Vice-President extended invitation to the First Vice-President to visit Kenya to boost bilateral relations and commercial cooperation by way that serve the common interests.