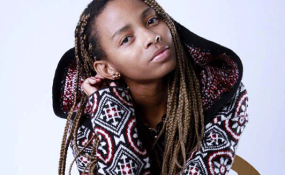 Photo: Namibian
By Netumbo Nekomba
A few weeks ago, the Namibian Annual Music Awards (NAMAs) organising committee released a list of its latest nominees at a trendy event in the capital city.
It was reported that only 150 artists were nominated of hundreds vying for the prizes at this year's event set to take place at Swakopmund on Saturday, 28 May.
And while some artists are used to having nominations to their names, others are in it to win it for the first time ever, including best traditional nominee Kalina for her song 'Namibiab'.
The Windhoek-born artist who originates from the south said she started singing at an early age and joined choirs in both primary and high school. With a musical family supporting her as well, Kalina felt she was bound to make music. "I love singing in my language," Kalina said. "You don't really find people who do that, but I basically do a new version of ma /gaisa."
Expressing her frustrations at how people don't take those who make traditional music seriously, Kalina said there's a misconception about artists. "If there's a New Year's Bash, for example, they would take some artists except those who sing ma /gaisa. It seems like there's favouritsim in the music industry. Also, artists are paid quite low. What will we do with N$300? People believe that we drink and perform while we are drunk, which is not true."
Despite these concerns, when she received the news of being nominated, Kalina couldn't contain her elation. "I was panicking while we were there at the National Theatre. I entered in three categories, but I was chosen in best traditional category. I can't wait to be famous, people will start recognising me!"
At the moment, she records at Khomas Music Production with Lucky Gariseb.
Another artist who has been nominated for the first time is Shaeto in the best album category, for his latest offering 'Overdue'. The hip-hop artist and producer has been in the industry for several years now, delivering works such as 'New Era' and 'Citizen' featuring artists such as Sean K, Berthold, Kanibal, D-Jay, Arlinda and Valentino.
"I'm very proud of myself," Shaeto said. "I work hard. No one believes in me except for myself."
Shaeto often voices his opinions on the music industry, stating that fans should appreciate Namibian artists the same way they do international artists. And this nomination might just change everything for the young rapper.
Speaking at the nominee announcement party earlier this month, MTC's Tim Ekandjo mentioned that nominations don't necessarily mean a win. "The fact that you've been nominated once, twice or thrice does not mean that you'll be a winner on the night... Your number of nominations does not suggest winning," he stressed.
Just as newcomers such as Suzy Eises, One Blood and Romi surprised the masses with several nominations, the new kids on the block might just surprise us once again during the awards show.
To get Kalina's latest album Tãim |hao, find her on Facebook as Kaliena Brandt. Find Shaeto on Soundcloud as Official Shaeto, on Facebook as Shaeto or email nhodi360@gmail.com for more information.