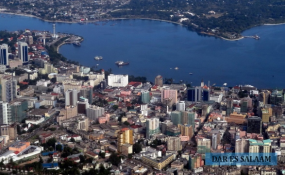 Photo: Daily News
Dar es Salaam — Foreign investors made a comeback at the Dar es Salaam Stock Exchange (DSE) this week, after an absence of nearly one week.
DSE reports have shown that during last week, foreign investors showed up only on Thursday, after they bought 60.67 per cent of shares worth Sh235 million.
For Tuesday, the market report showed that a total of Sh2.98 billion turnover recorded of which foreign investors injected Sh2.96 billion through buying shares, which was 99.44 per cent and 98.1 per cent (Sh2.92 billion) of selling side.
Tanzania Breweries Limited, which dominated the market on Tuesday, was the main target for foreign investors, as report showed that they changed hands on company's shares, both buying and selling activities.
According to a DSE daily report, the TBL counter had 188,865 shares traded at weighted average share price of Sh15,500 in three deals on the pre-arranged market board.
Foreign investors' participation during the first quarter was also high as report showed out of Sh85.9 billion turnover recorded, they injected Sh81.9 billion through buying and Sh57.5 billion through selling shares.
Reports also show that during the first 11 days of this month a total turnover of 3.5 billion was recorded, of which Sh3.1 billion was injected by foreigners through buying shares and Sh2.9 billion through selling shares.
Other main targets for foreign investors are Tanzania Portland Cement Company (TPCC), Tanzania Cigarette Company (TCC), Swissport, DSE, CRDB and Vodacom Tanzania.