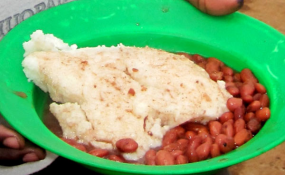 Photo: Daily Monitor
Maputo — Mozambique is losing annually about 62 billion meticais (one billion dollars), or almost 11 per cent of its Gross Domestic Product, became of chronic malnutrition, according to the government's Food and Nutritional Security Technical Secretariat (SETSAN).
To deal with this problem, which affects around 43 per cent of children under the age of five, SETSAN and the United Nations World Food Programme (WFP) on Thursday launched in Maputo a study entitled "Fill the Nutrient Gap", aimed at making household diets more nutritional.
Speaking at the launch, the SETSAN director of policies and planning, Claudia Lopes, noted that the level of chronic malnutrition among children has remained stubbornly high. It was 45 per cent in 1997, and since then it has only fallen by two percentage points, to 43 per cent.
"The rates are lower in the south, higher in the centre, and higher still in the north, where the prevalence of chronic malnutrition is over 50 per cent in Nampula and Cabo Delgado provinces", Lopes said. "The prevalence is higher in the rural areas - 46 per cent - and is increasing in the urban areas, from 29 per cent in 2003 to 35 per cent in 2011".
"We need to mobilise resources for more cost-effective actions, prioritising the most vulnerable strata of the population", she stressed.
Lopes said that good health depends on a balanced diet. Malnutrition in Mozambique is often caused by a poor diet, whereby households consume foodstuffs of low nutritional value.
"There are cases in which people produce highly nutritional foods - but not for their own consumption", Lopes said. "Because of cultural reasons and taboos, they prefer to sell them".
The government, she continued, has identified the dietary gaps, but the initiatives under way to mitigate chronic malnutrition are being implemented in an isolated manner, and SETSAN wants a more dynamic, integrated effort to tackle the problem
For her part, the WFP representative in Mozambique, Karin Manente, said "Fill the Nutrient Gap" is not just another study, but "compares the cost-effectiveness of various options needed to curb malnutrition and help Mozambique achieve zero hunger, which is possible".
"We need to continue to strengthen policies and programmes that are multi-sectoral and based on local conditions," she declared.